Accepted Students Reception
We proudly welcome you to the Warrior Family!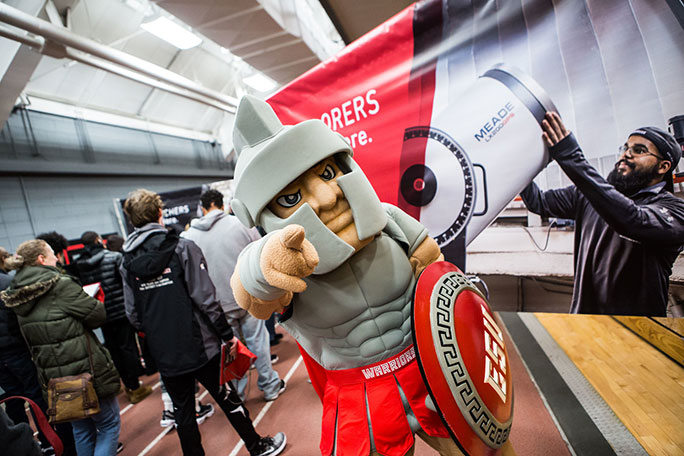 All accepted students are highly encouraged to join us for this extra special event!
This day will involve some opportunities for you to get a feel for all of the awesomeness that is ESU! Discuss complex social issues from your fields of interest, engage with other students and staff around what you can look forward to when you join us for an on-campus Fall 2021, and get any new or lingering questions answered by multiple offices, all in ONE VIRTUAL DAY.
You will be able to discover even more what ESU has to offer YOU!
The Virtual Accepted Student Reception will take place on Saturday, April 24, 2021 from 10:00 a.m. until 1:00 p.m.
Meet-ups and Q&A Rooms include: Deans of ESU's Colleges, COVID Preparedness, Warrior Athletics, Gender and Sexuality Center, Men of Color Alliance/Women of Color Initiative, Assistance in Spanish, Admissions, Financial Aid, Student Billing, Residential and Dining Services, Commuter Engagement, Veterans Services, Transfer Admissions , Academic Support, Undeclared/Exploratory Studies
Questions? Please email the Admissions Office at NewToESU@esu.edu.
OASIS: Accessible Services Individualized for Students Request for Special Accommodations
For assistance or special accommodations, please contact admission@esu.edu or (570) 422-3542. Accommodations may include, but are not limited to, services for physical, cognitive, visual or auditory assistance.
Contact Us
Contact Information
Campus Address

Reibman Administration Building

Phone:

Fax:

(570) 422-3933 (Fax)
Title of Department Leader

Admissions

Name

E:

Phone: