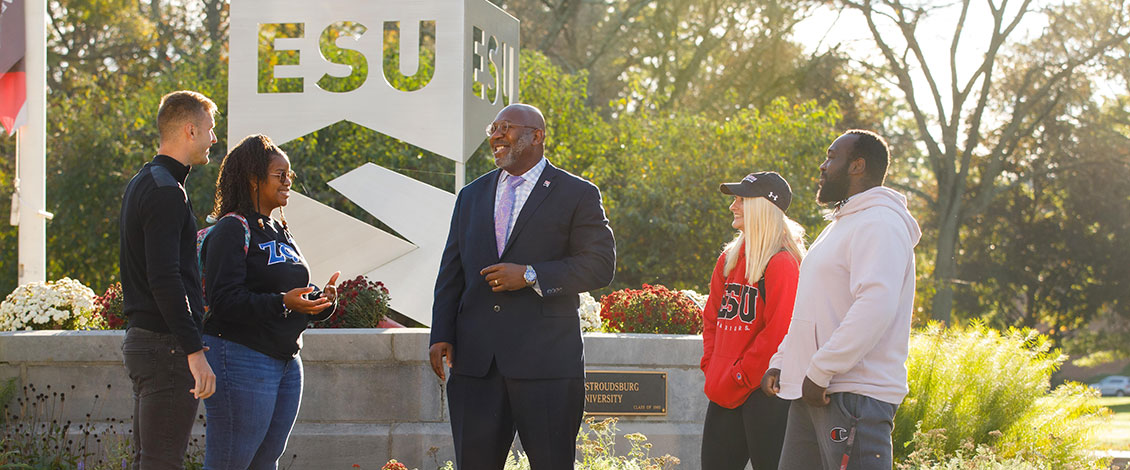 Office of the President
Welcome To East Stroudsburg University, Home of the Warriors!
My name is Kenneth Long and I am proud to serve as the 14th President of ESU. I've been a member of this campus community for more than nine years, serving as the vice president for administration and finance. During my time at ESU, I have had the pleasure of working with our past president Marcia G. Welsh, Ph.D., and look forward to an even greater opportunity to make connections with our students, faculty, staff, parents, alumni and friends.
These are challenging times for higher education, but I am honored that you have either selected or are considering ESU for your higher education experience. Our faculty and staff are committed to providing students with rigorous academic offerings and life experiences that will prepare them for the "new normal" and a competitive job market that will require individuals to be adaptable, resilient and nimble. As a matter of fact, ESU's mission is directly aligned with our strategic plan, "STUDENTS FIRST Empowering Innovation through Collaboration 2017-2021," placing student success as our top priority.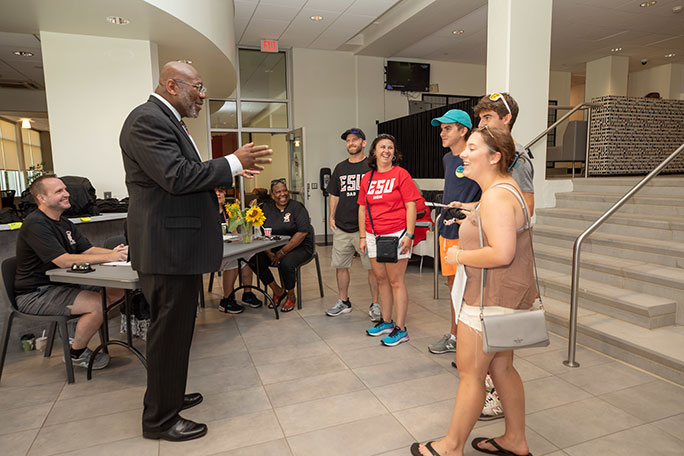 For the current members of our campus community, please know that I will work with our administrative staff to continue providing a continuum of education that rivals other institutions of our size across the country. We will strive for excellence in all we do to give you the best possible outcomes.
For those who may be considering ESU for their advanced education, please accept my personal invitation to visit our campus (either in person or virtually) and make a date to meet with a member of our admissions team to get to know us. Check out the 58 undergraduate programs, 21 master's programs and 2 doctoral programs we offer in addition to seven certificate programs. Your academic journey will be enhanced by the opportunities you'll have to participate in ESU's more than 100 student organizations and club sports, our 22 NCAA Division II varsity sports and tremendous off-campus opportunities to explore the wide-open spaces of the Pocono Mountains!
My background as a fiscal officer makes me keenly aware of the decisions you'll make, particularly in choosing an institution and a degree program that is right for you. Know that I take the opportunity to shape your future very seriously and I will continue to do my very best to ensure that every student will have a pathway to success. I look forward to meeting you on your next visit to campus and, most especially, to getting to know all of you as fellow Warriors.
Sincerely,
Kenneth Long
---
About President Long
Kenneth Long, M.B.A., was appointed to serve as the president of East Stroudsburg University of Pennsylvania by the Board of Governors for Pennsylvania's State System of Higher Education, effective November 2, 2022.
Long earned his bachelor's degree in math and political science from Drew University in Madison, N.J. and an M.B.A. from Monmouth University in West Long Branch, N.J. He has experience teaching courses in business administration, financial accounting and managerial accounting and has made presentations at a number of regional and national meetings and conferences. Long is currently the co-chair of Pennsylvania's State System of Higher Education's Budget Team and an Executive Board Member and Treasurer of the Eastern Association of College and University Business Officers (EACUBO).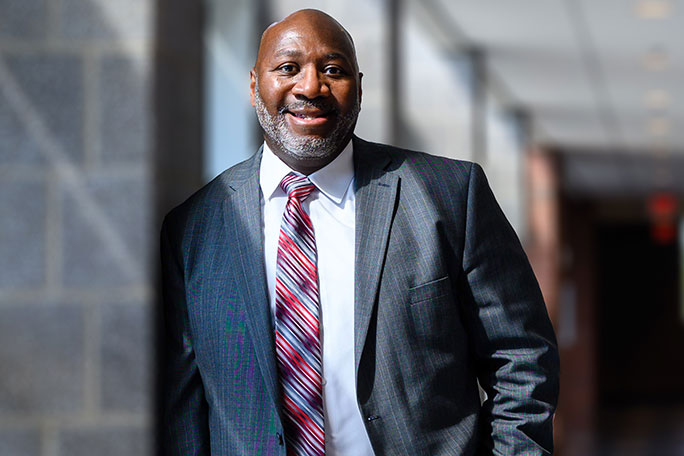 Long brings more than 30 years of experience in higher education to this interim post. Among his many accomplishments at ESU, Long has been responsible for: improving the University's annual operating margin; increasing unrestricted net assets threefold in five years; improving student healthcare access and lowering costs by partnering with a regional medical center to provide student healthcare services; has exceeded budget projections at three different universities over the past 13 years (consecutively); initiating the first academic space utilization study and athletic space master plan; collaborating with ESU's chief academic officer to improve tenure-track faculty hiring through strategic financial planning; creating a top-tier community baseball/softball complex in partnership with the local municipality and Little League; and managing construction of new student suite-style housing and a new student counseling and testing center.
Previous to his employment at ESU, he held positions at Kutztown and Cheyney universities. He served five years as assistant vice president of administration and finance at Kutztown University and worked six months in 2012 as interim vice president for finance and administration at Cheyney University, in a loaned executive capacity. Prior to joining the State System, Long held positions at the University of Toledo (associate vice president for budget and planning) and DeVry University (dean of finance and administration).
Long is married to Evelyn and has three daughters, Alysha, Peyton and Taylor.
Contact Us
Contact Information
Campus Address

Reibman Administration Building 204

Phone:

Fax:

(570) 422-3478 (Fax)
Title of Department Leader

President, East Stroudsburg University

Name

Kenneth Long, M.B.A.

E:

Phone: