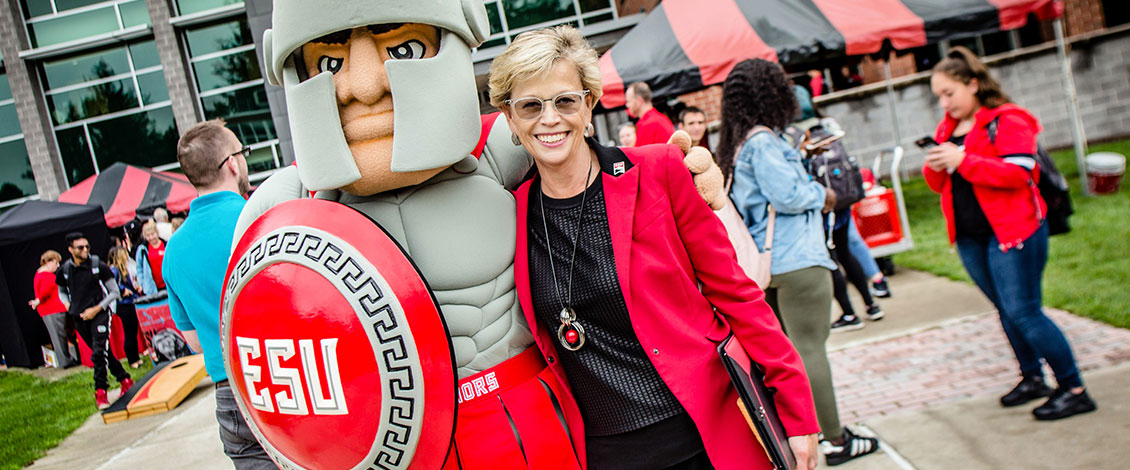 Office of the President
Every day is a GREAT day to be a Warrior!
Welcome to East Stroudsburg University of Pennsylvania! My name is Marcia Welsh and I'm proud to serve as the 13th president of this great institution. I feel very fortunate to work with passionate faculty and staff each and every day to provide our nearly 6,500 students with an engaging, exciting and challenging academic experience that will prepare them for the competitive and ever-changing job market.
As president, one of my highest priorities is to ensure our students will continue to have access to academic excellence in our classrooms and laboratories as well as the best possible life experiences, on and off campus. Students interested in attending ESU have an opportunity to choose from 58 undergraduate programs, 21 master's programs, 2 doctoral programs, and certifications.
So ...if you're a prospective student or visitor to our website, I encourage you to make a date to visit our campus, connect with our faculty and staff, and discover for yourself what sets ESU apart from other higher education institutions. If you're a current student, graduate or friend of ESU, I invite you to look closer at our great university and continue your commitment by getting involved and staying involved in all we do. No matter what role you play, know that each and every relationship is valued and will help to strengthen the value of an ESU degree for years to come!Those that choose ESU will be assured a quality education second-to-none as well as a plethora of opportunities to get involved, including the more than 100 student-run organizations and 20 athletic programs we offer. The location of East Stroudsburg University is also very appealing. Students (and their families) have the chance to enjoy the wide open spaces of the outdoors and activities ranging from hiking, canoeing, golfing, fishing and biking to skiing, tubing and snowboarding. Our university is also conveniently located along major interstate highways that can take you to major metropolitan areas, such as New York City and Philadelphia within 1-2 hours. There's something new to see or do each and every day!
Thank you for your genuine support and trust in ESU and in our ability to deliver a superior, innovative education to future generations of global citizens who are not only great leaders but true Warriors. I hope to meet you during your next trip to campus.
Sincerely,
Marcia G. Welsh, Ph.D.
President
Contact Us
Contact Information
Campus Address

Reibman Administration Building 204

Phone:

Fax:

(570) 422-3478 (Fax) (Fax)
Title of Department Leader

President, East Stroudsburg University

Name

Marcia G. Welsh, Ph.D

E:

Phone: