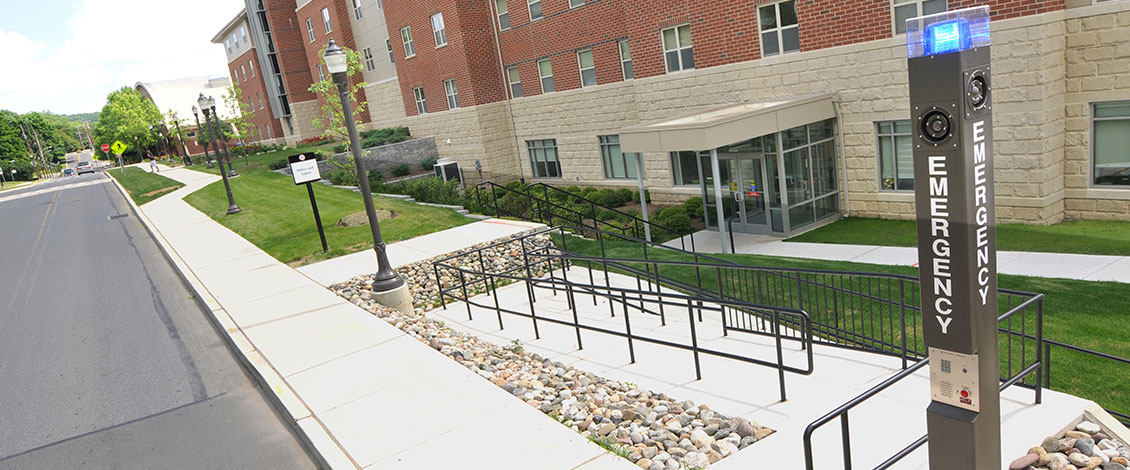 University Police
Welcome to the East Stroudsburg University Police Department website. Through this site you will be able to learn about our mission, our staff, and the many services that we provide to the University community. You will also find important information about campus safety and crime statistics information compiled by our department.
The efforts of the ESU Police Department are aimed at providing a safe environment where our community can thrive. We believe the best way to build a safe community is to work together. Accordingly, we strive to preserve old relationships and continuously form new ones within our community. Whether you're representing yourself or a group, we encourage you to let us know how the ESU Police Department can serve you.
ESU Police Department Mission
Mission: To enhance the safety and wellbeing of the campus community by providing professional Police, Security, Health and Safety services and programs. We are the University's leading resource in the areas of safety and security and we practice a unique style of policing that involves all areas of the university community. To perform our role; communication, collaboration and inclusion are essential in creating and maintaining a safe and healthy learning, living, and working environment.
Values: We hold the rights and responsibilities of every individual in the highest regard and respect these rights while valuing the preservation of life and liberty. Our pursuit of professionalism and respect along with the ever continuing effort to provide the highest levels of community service are cornerstones of our success and viability.
Department Services
Safety: Your safety is our concern. The University Police Department protects the rights of the campus community regardless of sex, race, color, ethnicity, sexual orientation, physical handicap, religion, or other belief system.
Fire & First Aid Response: The University Police are the first responders for any reported fires on campus. University Police works hand in hand with the department of Environmental Health & Safety to maintain, operate and respond to the fire alarm systems at the University.
Traffic Safety: Driving Under the Influence (DUI) enforcement is an important part of the mission of the University Police. On average someone is killed by a drunk driver every 50 minutes nationwide.
Safety escort: Have you ever felt uncomfortable walking alone at night on campus? The University Police Department operates a protective escort service designed for your safety and peace of mind if you must walk at night. Whenever you feel that walking alone may not be in your best interest, the protective escort service is there for you.

Women's RAD program: R.A.D is a program of realistic, self-defense tactics and techniques. The R.A.D system is a comprehensive course for women, which begins with awareness, prevention, risk reduction and avoidance, while progressing on to the basics of hands-on defense training. This opportunity is completely free of charge for the ESU community.
Requesting Assistance/Reporting Crime
All students, employees, and visitors should promptly report any suspicious activity or crimes in progress, life and death situations, and crashes with injuries by phone to 911 or by utilizing a campus Emergency Blue Light phone (located throughout campus):
Specify your location.
Stay on the line until the dispatcher or officer determines your location and tells you to hang up.
University Police officers are highly trained professional police officers. They possess full state authority to enforce all state and local laws and University regulations. The University Police Department is service oriented and is committed to service and excellence, and subscribes to the philosophy of community policing in its goal to provide police services that meet the specialized needs of a university community.
Contact Us
Contact Information
Campus Address

Hemlock Suites Smith Street, Ground Floor

Phone:

Fax:

(570) 422-3677 (Fax)
Title of Department Leader

Chief of Police & Director of Campus Safety

Name

William Parrish

E:

Phone: