Biography
About Sterling Strauser...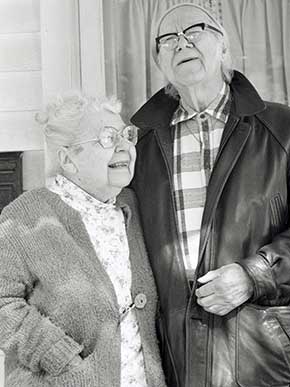 Sterling Boyd Strauser (1907–1995), whose German name means "one who binds the flowers," was born in Bloomsburg, Pa. in 1907, and later moved to East Stroudsburg, Pa., with his wife, Dorothy.
In addition to "Spring is Bursting Out" and "Self-Portrait" featured on this program, some of Strauser's most iconic pieces, such as "The Circus," "Mother's Funeral," "Nancy Emma," his signature florals, and many other spectacular works are part of the collection now known as The Sterling Strauser Gallery at East Stroudsburg University of Pennsylvania.
Strauser's works have been exhibited at: the Lyzon Gallery, Nashville, Tenn.; the Reading Public Museum, Reading, Pa.; and Belmont University in Nashville, Tenn. His paintings are included in the permanent collections of the American Museum in Bath, England; the Allentown Art Museum, Allentown, Pa.; Lehigh University, Bethlehem, Pa.; Everhart Museum, Scranton, Pa.; Cheekwood Museum and Vanderbilt University, both in Nashville, Tenn.; Maier Museum of Art, Lynchburg, Va.; and, numerous private and corporate collections.
In addition to his painting, Strauser served as a teacher and principal of the grade school in Mount Pocono from 1928 to 1929. He also worked at the International Boiler Works in East Stroudsburg where he began as a shipping clerk in 1930 and retired as company secretary in 1962.
Timeline of the Life of Sterling Strauser
1907 – Born in Bloomsburg, PA, on August 15 to Boyd Wesley and Emma (Freas) Strauser
1922 – Begins painting at age 15
1924 – Attends Bloomsburg State Teacher's College
1928 – Graduates; marries Dorothy Ferry, his high school sweetheart, in June; moves with his wife to East Stroudsburg area to take teaching position
1928 – 29 –Teaches at a grade school in Mount Pocono
1930 – Begins work as a shipping clerk at the International Boiler Works in East Stroudsburg
1933 – Sterling and Dorothy's daughter, Jill, is born.
1939 – Solo Exhibit at Zimbalist Gallery in New York City
1942 – Begins correspondence with Victor Joseph Gatto
c1949 – Travels to Asbury Park and paints ocean for first time
c1960 – Dorothy Strauser discovers Justin McCarthy at Courthouse Square Outdoor Art Fair in Stroudsburg
c1960 – Sterling meets Jack Savitsky
1962 – Retires as Office Manager from International Boiler Works
mid – 1960s – Artist Group with Phyllis Reuben, Nancy Hebard and others
1985 – Exhibits at the Jack Savitt Gallery in Macungie
1989 – Receives the Delaware Water Gap Celebration of the Arts Award, which is later named for him and Dorothy
1990 – Participates in symposium for The Cutting Edge: Twentieth Century American Folk Art Exhibit at the Museum of American Folk Art in New York City
1991 – Authors Chuck and Jan Rosenak dedicate Encyclopedia of Twentieth-Century American Folk Art and Artists to the couple
1991 – Treated for cancer
1993 – Folk Art Society of America presents annual Award of Distinction to Sterling and Dorothy Strauser
1995 – Sterling Strauser dies of cancer at home on September 16 at age 88
1999 – 2000 – A Modernist Revisited Exhibit at Reading Public Museum
2001 – Sterling Strauser and His Friends Exhibit at Belmont Univ. (Tenn.)
About Dorothy Strauser...
Dorothy C. "Dot" Strauser lived most of her life in East Stroudsburg where she was known as a gifted watercolor artist and maker of hooked rugs.
Dorothy was born in 1908 in Hazleton to Grover and Mary Ferry. While still in high school, she met her future husband, Sterling Strauser. They both attended Bloomsburg University (then State Teachers College), studying art with George Keller. She married Sterling in 1928 and that same year moved to East Stroudsburg where Sterling worked as a teacher and then office manager at the Boiler Works. One daughter, Jill, was born in 1933.
Dorothy was a self-taught artist who made hooked rug pictures from textiles she collected and dyed herself. Her fanciful pictures portrayed such things as cats, roosters, automobiles, and Biblical scenes like Adam and Eve and the Ark. In addition to her "hookings," Dorothy painted watercolors, mostly floral still-lifes, marked by their bright colors and graceful composition.
Dorothy's works are collected by a substantial following. In addition, her works are part of the collections of the sculptor Louise Nevelson, the painter Red Grooms, and several corporate art collections.
Besides being artists, Dorothy and Sterling were collectors and supporters of American folk art, championing, among others, Justin McCarthy, Victor Joseph Gatto, and Jack Savitsky. In recognition of their efforts, authors Chuck and Jan Rosenak dedicated to the couple their exhaustive Encyclopedia of Twentieth-Century American Folk Art and Artists in 1991; the Folk Art Society of America awarded Dorothy and Sterling its Annual Award of Distinction in 1993; and Dorothy won COTA's award for the visual arts in 2003.
Sterling and Dorothy were quick to influence the arts throughout the Pocono Region, both as well-known collectors and promoters of folk and outsider art. They are credited with discovering, encouraging and promoting many locally known self-taught artists, including Justin McCarthy, Jack Savitsky, Ironsides Pry, Charlie Dieter and Joseph Polinski.
Contact Us
Contact Information
Campus Address

Kemp Library

Phone:

Fax:

(570) 422-3151 (Fax)
Title of Department Leader

Interim Director

Name

Megan Smith

E:

Phone: