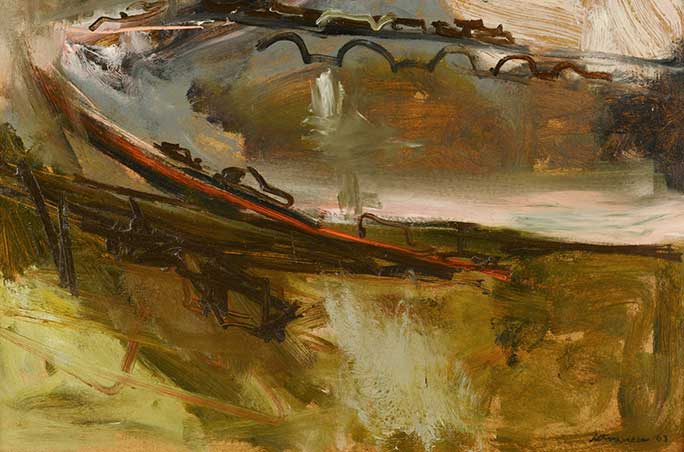 Welcome to the Sterling Strauser Gallery at East Stroudsburg University of Pennsylvania. Opened on May 1, 2012, this new space features the works of the late acclaimed, self-taught artist Sterling Strauser who lived and painted in East Stroudsburg from 1928 to 1995. The Gallery was made possible thanks to a generous donation of 114 of Strauser's paintings by Grey and Linda Carter and family of McLean, Va. The Gallery is currently in a temporary location.
Sterling Boyd Strauser (1907 – 1995), whose German name means "one who binds the flowers," was born in Bloomsburg, Pa., in 1907, and later moved to East Stroudsburg, Pa., with his wife, Dorothy. Sterling and Dorothy were quick to influence the arts throughout the Pocono Region, both as well-known collectors and promoters of folk and outsider art.
ESU's Strauser collection features "Spring is Bursting Out,"as well as his self-portrait and some of his most iconic pieces such as "The Circus," "Mother's Funeral," "Nancy Emma," his signature florals, and many other spectacular works.
Strauser's art is included in the permanent collections of the American Museum in Bath, England; the Allentown Art Museum, Allentown, Pa.; Lehigh University, Bethlehem, Pa.; Everhart Museum, Scranton, Pa.; Cheekwood Museum and Vanderbilt University, both in Nashville, Tenn.; Maier Museum of Art, Lynchburg, Va.; and, numerous private and corporate collections.
In addition to his painting, Strauser served as a teacher and principal of the grade school in Mount Pocono from 1928 to 1929. He also worked at the International Boiler Works in East Stroudsburg where he began as a shipping clerk in 1930 and retired as company secretary in 1962.
Philanthropist Grey Carter and his wife, Linda, are ardent art dealers and collectors, pleased to honor Sterling Strauser by donating the founding collection of his art to East Stroudsburg University. Grey is a private art dealer and artist's representative. In 1964, after meeting Sterling Strauser, Grey began buying and selling works of art to meet his desire to acquire an art collection.
For more information about The Sterling Strauser Gallery, please contact Cathy Klingler, Chair of the Heritage Collection, at (570) 422-2747 or smcurator@esu.edu.
Contact Us
Contact Information
Campus Address

Kemp Library

Phone:

Fax:

(570) 422-3151 (Fax)
Title of Department Leader

Interim Director

Name

Megan Smith

E:

Phone: