Grey and Linda Carter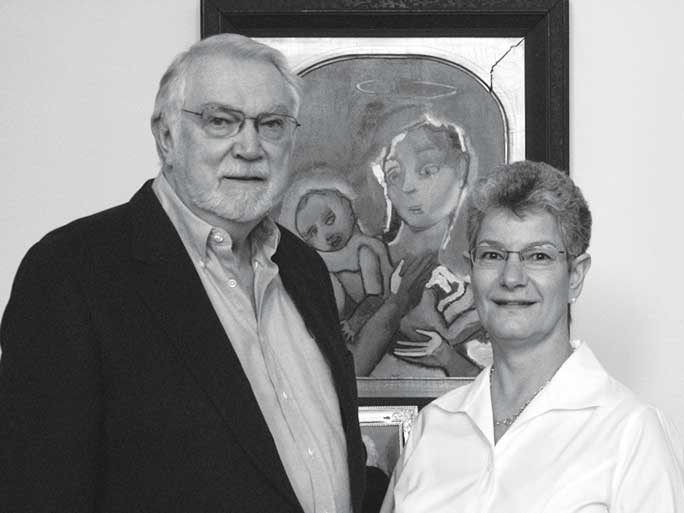 Grey and Linda Carter are ardent art collectors residing in McLean, Va. They are very pleased to honor Sterling Strauser by donating the founding collection of his art to East Stroudsburg University of Pennsylvania. Grey is a private art dealer and artist's representative. In 1964, he met Sterling Strauser and close friend, David Burliuk. With their encouragement and support, Grey began buying and selling art to meet his desire to acquire a collection.
Born in Eden, N.C., Grey attended Duke University before joining the United States Air Force. He served in command and staff assignments in fighter operations, as well top level positions in strategic planning. He was qualified in several fighter aircraft and flew 107 combat missions in Viet Nam. His decorations include the Distinguished Flying Cross, Air Medal with six oak leaf clusters, Bronze Star, and Commendation Medal among others. Upon retirement, Grey worked as a marketing and strategic planning executive in defense communications for over 20 years.
Upon retirement in 1998, Grey followed his true passion and turned his avocation into his current business. Grey Carter-Objects of Art serves clients creating fine collections by drawing on an inventory of well known self-taught artists such as Victor Joseph Gatto, Justin McCarthy, and Jack Savitsky, as well as representing many rising contemporary outsiders such as J. J. Cromer, Paul Lancaster, Charlie Lucas, and Mark Casey Milestone.
Linda Ortega Carter is a native of Washington, D.C. Linda has spent much of her adult life in federal public service, beginning in 1975 at the Federal Aviation Administration and then National Traffic Highway Safety Administration. In 1980, she served Presidents Carter, Reagan and Bush, holding positions in Presidential Correspondence and Personnel. In 1995, Linda reentered federal service at the U.S. House of Representatives, Office of the Chief Administrative Officer and the Office of Members' Services. She retired April 15, 2012 after 34 years of federal service.
Linda and Grey met in 1995 in a Hospice group following the untimely deaths of their spouses. Now happily married, they work together to promote the artists they represent and support numerous artistic endeavors such as the American Visionary Museum, Art Enables, the Folk Art Society, Intuit, Phillips Collection, and the American Folk Art Museum.
Contact Us
Contact Information
Campus Address

Kemp Library

Phone:

Fax:

(570) 422-3151 (Fax)
Title of Department Leader

Interim Director

Name

Megan Smith

E:

Phone: