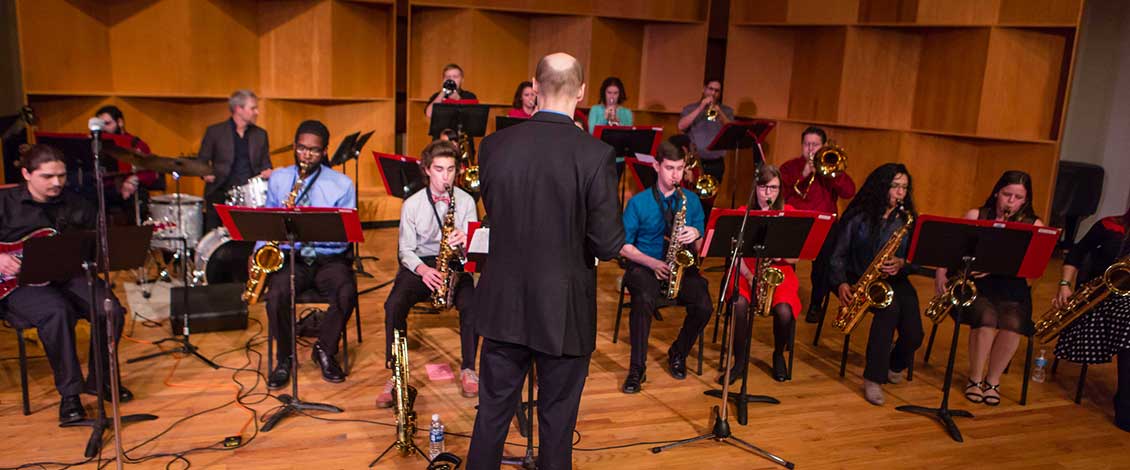 Jazz at ESU
Jazz Lounge Listening Series
Join us in Kemp Library next to the café at the Jazz Lounge for the first listening session and get acquainted with jazz of all kinds each month!
Free and open to the public, just relax and listen!
Al Cohn Collection
Representing all forms of jazz from all eras, the Al Cohn Memorial Jazz Collection was founded and named in honor of the award-winning Al Cohn — legendary saxophonist, arranger, composer and conductor.
University Jazz Ensemble
Cecilia S. Cohen Recital Hall, Fine and Performing Arts Building
Comprised of students and community members, the ESU Jazz Ensemble rehearses once a week. Often joined by some of the areas finest guest musicians, the ESU Jazz Ensemble performs a Fall and Spring concert at no charge to the public under the direction of Dr. Matt Vashlishan.
Contact Us
Contact Information
Campus Address

Fine and Performing Art Center, Kemp Library (ACMJC)

Phone:
Title of Department Leader

Jazz Program Coordinator, Al Cohn Memorial Jazz Collection

Name

Matthew J. Vashlishan

E:

Phone: