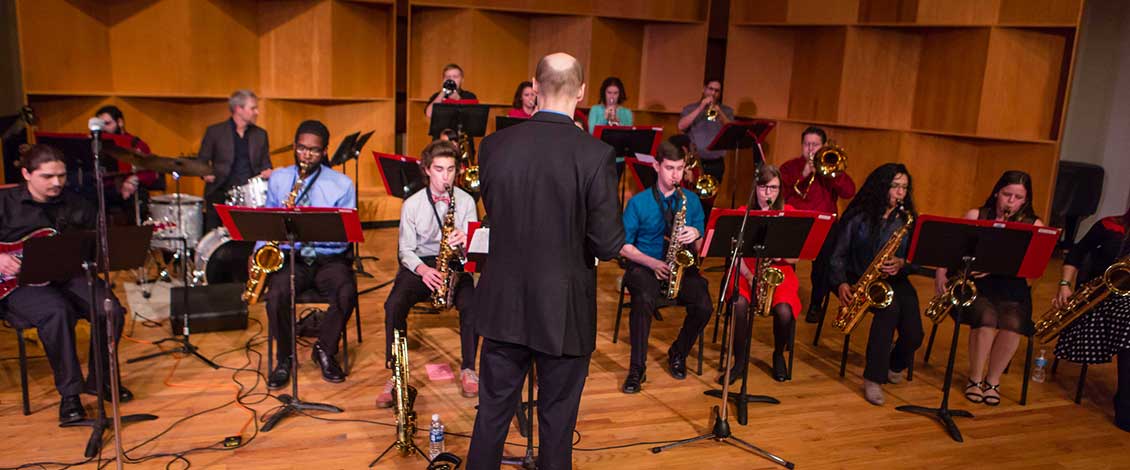 Jazz at ESU
Jazz Lounge Listening Series
The Jazz Lounge Listening Series is held at 7pm on the 3rd Wednesday of each month on the main floor of Kemp Library.
Next Session, Wednesday April 20 at 7pm: Buddy Rich, Big Swing Face (Big Band 1967)
Al Cohn Collection
Representing all forms of jazz from all eras, the Al Cohn Memorial Jazz Collection was founded and named in honor of the award-winning Al Cohn — legendary saxophonist, arranger, composer and conductor.
University Jazz Ensemble
Cecilia S. Cohen Recital Hall, Fine and Performing Arts Building
Comprised of students and community members, the ESU Jazz Ensemble rehearses once a week. The Ensemble is not in session for the Spring Semester 2022.
The Note
The Note is the magazine of ESU and the Al Cohn Memorial Jazz Collection. It is published twice per year and features content from ESU, the Collection, and the Poconos' Jazz Community. Subscription is free - to be added please contact Matt Vashlishan at alcohncollection@esu.edu with your mailing address. Digital copies are now available below:
-Vol. 30 No. 2 Issue 74 (Summer/Fall 2020)
Contact Us
Contact Information
Campus Address

Fine and Performing Art Center, Kemp Library (ACMJC)

Phone:
Title of Department Leader

Jazz Program Coordinator, Al Cohn Memorial Jazz Collection

Name

Matthew J. Vashlishan

E:

Phone: