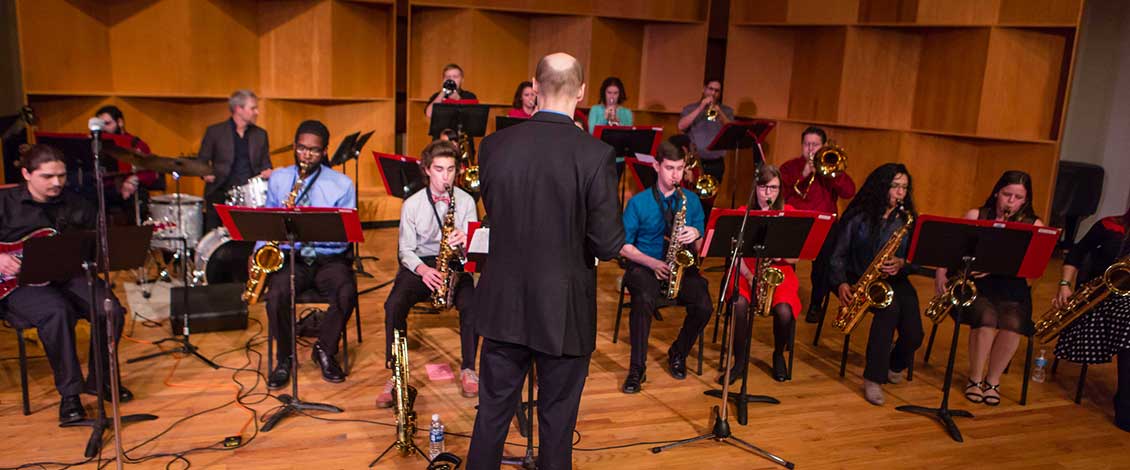 Jazz at ESU
The Duke Ellington Nutcracker Suite and The Grinch Suite Premier!
Saturday December 10th, 2022 at 6:00 p.m.
Cecilia S. Cohen Recital Hall, ESU Fine & Perf. Arts
The Ellington Nutcracker is back! Listen to the Water Gap Jazz Orchestra perform this holiday masterpiece by Duke Ellington and Billy Strayhorn. In addition, the band will be premiering The Grinch Suite for full jazz ensemble written by Matt Vashlishan, a modern take on the holiday jazz suite! Special guests include Nancy Reed, Edward Ellington II, saxophonist/clarinetist Dan Block, and trumpeter Seneca Black.
Al Cohn Collection
Representing all forms of jazz from all eras, the Al Cohn Memorial Jazz Collection was founded and named in honor of the award-winning Al Cohn — legendary saxophonist, arranger, composer and conductor.
The Note
The Note is the magazine of ESU and the Al Cohn Memorial Jazz Collection. It is published twice per year and features content from ESU, the Collection, and the Poconos' Jazz Community. Subscription is free - to be added please contact Matt Vashlishan at alcohncollection@esu.edu with your mailing address. Digital copies are now available below:
A Phil Woods Legacy: Matt Vashlishan with the WDR Big Band. Cologne, Germany 2021
Contact Us
Contact Information
Campus Address

Fine and Performing Art Center, Kemp Library (ACMJC)

Phone:
Title of Department Leader

Jazz Program Coordinator, Al Cohn Memorial Jazz Collection

Name

Matthew J. Vashlishan

E:

Phone: