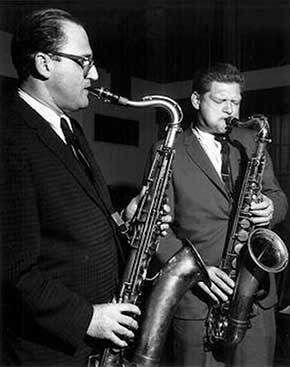 Most of you know Al Cohn's brilliance as a jazz saxophonist. Not as well known is the scope of his other accomplishments.
His career in jazz spanned more than 45 years. He performed with the bands of Henry Jerome, Joe Marsala, Georgie Auld, Alvino Rey, Buddy Rich, Woody Herman, Artie Shaw, Elliot Lawrence and others. Many of the arrangements used by these bands were written by Al, and he also arranged for Gerry Mulligan, Quincy Jones, Terry Gibbs and Jimmy Rushing. In Herman's band, he replaced Herbie Steward as a member of the notable "Four Brothers" in Woody's "Second Herd," joining tenors Zoot Sims and Stan Getz and baritone saxophonist Serge Chaloff. It was during this time that Al and Zoot formed their lasting friendship and musical relationship.
He composed regularly for television shows, including "The Andy Williams Show," "The Pat Boone-Chevy Showroom," "The Steve Allen Show," "The Ernie Kovacs Show," and "Sid Caesar's Show of Shows." He also scored orchestrations for numerous televised specials, including the week-long "50th Anniversary of CBS," the award-winning "Anne Bancroft Show" and "S'Wonderful, S'Marvelous, S'Gershwin" shows, along with the "Cole Porter in Paris Show," the Tony Awards, and Miss Universe and Miss USA shows. He also wrote for the Jack Sterling WCBS morning radio show.
In film, he appeared in "The Great Rocky Mountain Jazz Party," a 1977 documentary based on one of Dick Gibson's Colorado Jazz parties, and in the 1948 film short entitled "Woody Herman and his Orchestra." He also played tenor solos on the soundtrack for "Lenny," a film based on the life of comedian Lenny Bruce.
Al was principal arranger for the Broadway productions of "Raisin," "Music, Music, Music" and Duke Ellington's "Sophisticated Ladies." He also played tenor sax soundtrack for the stage production of "I'm Not Rappaport."
He wrote arrangements for many singers, including Tony Bennett, Peggy Lee, Lena Horne, Linda Ronstadt and Sammy Davis, Jr., and special material for Dick Shawn and Kay Thompson. On occasion, Al conducted his orchestrations during recording sessions. In addition to Bennett and Horne, Al recorded with many of the vocal greats, including Billie Holiday, Ella Fitzgerald, Teresa Brewer, Betty Carter, Irene Kral, Susanna McCorkle, Carmen McRae and Nana Mouskouri. Al even ventured into the world of poetry and prose. He and Zoot were among jazz musicians accompanying the Beat Generation's Jack Kerouac during club readings and recording sessions.
As player, leader, and co-leader, Al toured extensively throughout the U.S. and around the world. Al and Zoot co-led a quintet from 1957 through the early 1980s, appearing regularly at the Half Note in NYC.
The recipient of numerous awards during his lifetime, including 4 Grammy nominations, his posthumous awards include the prestigious inductions to the American Jazz Hall of Fame and the ASCAP Wall of Fame. Al composed more than one hundred original jazz tunes, all of them recorded. He had more than 50 recordings to his credit, with appearances on more than 350 other albums and CDs. Jazz historian Russ Chase is nearing completion of an authoritative discography of his recordings.
Contact Us
Contact Information
Campus Address

Kemp Library

Phone:

Fax:

(570) 422-3151 (Fax)
Title of Department Leader

Interim Director

Name

Megan Smith

E:

Phone: