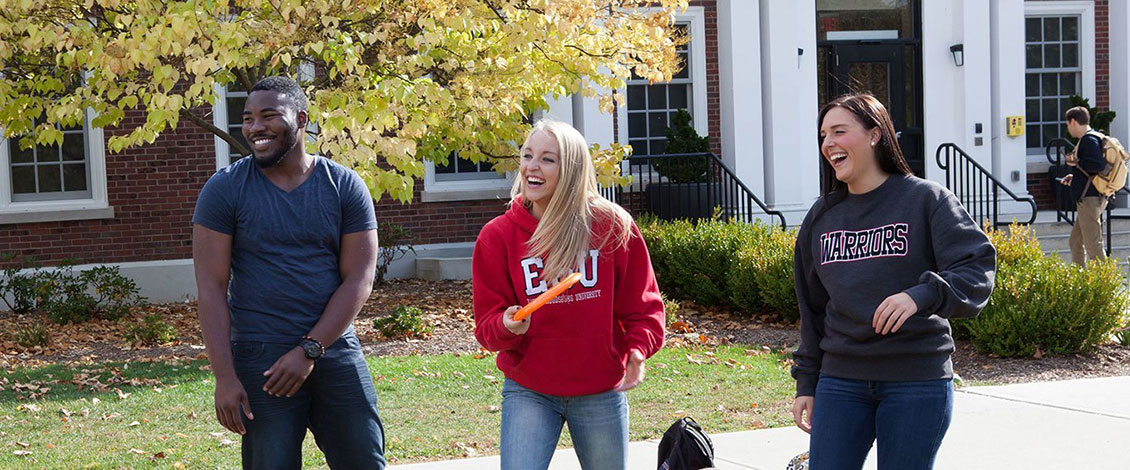 Conduct
Enjoyment
You will discover that academic and co-curricular opportunities at ESU will enrich your life and provide interesting and valuable experiences. Take pleasure in the process, as well as in the end result.
Participate in your new university life with an open mind, a positive attitude, and an accepting spirit.
Courtesy
You are joining a community of people, ideas, and cultures that provide for a full and enriching experience. Abide by the platinum rule: "Treat others as they would like to be treated." Graciousness to all members of campus and the local community, regardless of difference, is an expectation of ESU.
Fitting In
New students generally have one pressing question: "Will I fit in?" You will be successful at "fitting in" when you take the responsibility to identify your academic, personal, and social needs and interests, and apply them to your ESU experience.
Extend yourself to make connections rather than waiting for others to connect with you. You may feel uncomfortable at first, however, ESU is a friendly campus with a wealth of faculty, staff, and student members that are happy to engage with you and welcome you into the campus community.
If you have any questions, don't hesitate to ask...if you do not know where to turn, turn to the Office of Orientation and New Student Programs, 403 Normal Street.
Honor
As in any community, ESU has rules that provide order and safety for its members.
Members of the ESU community earn honor by:
Obeying the rules
Adhering to the requirements
Following the directions of faculty, staff, and student leaders who seek to guide them
Begin your ESU experience with honor by upholding a positive code of conduct.
Respect
Respect toward persons and property within and beyond the ESU community is expected.
Regarding classes and programs...arrive on time, turn off cell phones, listen when others are speaking
Participate appropriately when the situation warrants input
Behave in a civil manner with regard to others' differences
Remain in classes and programs until they are completed
Be considerate of the university's physical facilities
Be a good neighbor by respecting off-campus people and property
Contact Us
Contact Information
Campus Address

Reibman Administration Building

Phone:

Fax:

(570) 422-3933 (Fax)
Title of Department Leader

Admissions

Name

E:

Phone: