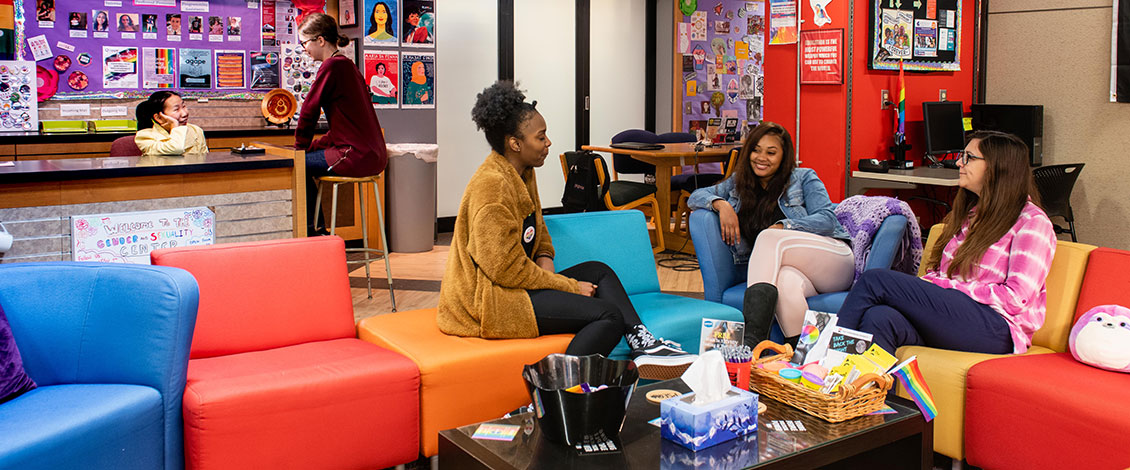 Gender and Sexuality Center
Welcome to the Gender and Sexuality Center!
We are a community-based department that focuses on the exploration of self, the validation of one's identity, and developing lasting networks. We offer support services to students, student clubs and organizations, staff, and administration. We also offer programming and events that celebrates the expression and development of one's gender, sexuality, and intersectional identities.
The mission of the Gender and Sexuality Center is to encourage ESU community members to discuss and think introspectively on the many ways these identities influence our lives. Intersectionality and empowerment are the foundation of the GSC. We motivate students to become their best and true selves and educate how to be an ally and advocate.
Faculty and Staff
The GSC offers Faculty and Staff workshops for your class, department or student organization.
---
Visit the Gender and Sexuality Center
The Gender and Sexuality Center is located in the bottom floor of the University Center, room G-7. The GSC is a safe space for all students to learn about different genders and sexualities and share experiences with others. This is an excellent place to meet new people and hang out between classes.
This space offers students:
A communal lounge and offers free coffee, tea, and hot chocolate
Couches for discussions and relaxing
An intersectional feminist library where students can sign out books and movies
Computers for students to work on projects and
Meeting tables for students and clubs
A Baby Pantry is based on donations for students who are also parents
Meet the GSC Staff
Please feel free to text or email any of the GSC staff if you are struggling with any part of your identity. Email any of us to set up a confidential meeting. We are here to help you on your journey in understanding yourself as you grow into the person you always knew you could be.
Contact Us
Contact Information
Campus Address

University Center, Room G-7

Phone:
Title of Department Leader

Interim Director

Name

Lyesha Fleming

E:

Phone: