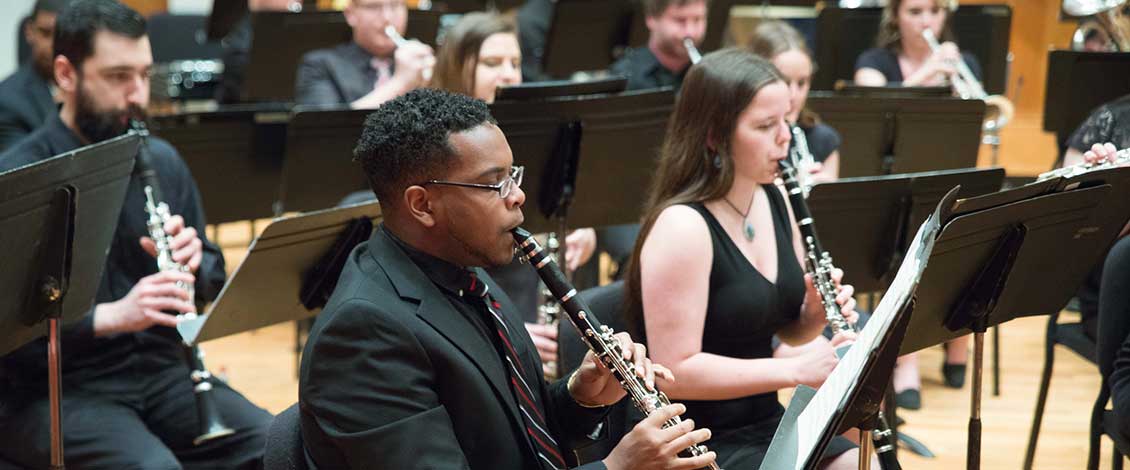 University Bands
MUSIC @ ESU
Students who want to continue (or start!) performing music have a number of options when choosing ESU. From our band programs to our choir, students have a number of ensembles to choose from, as well as courses in music to take as an option towards graduation.
The Warrior Marching Band is the most active and visible musical organization on campus, performing at football, volleyball, basketball, and lacrosse games as well as local parades, community events, orientations, and other important functions. This group is proud to serve as one of the most prominent community relations organizations on campus, and loves to have fun performing popular music of all styles. In addition to winds and percussion, opportunities for dancers/pom squad, color guard, vocalists, and other talented individuals exist to perform for thousands of people every week!
The ESU Community Concert Band is a collaborative ensemble with local community members. This group meets weekly on Monday evenings at 7:00 p.m. to rehearse and perform works ranging from standard band literature to popular film music and everything in between.
ESU's Jazz Big Band is another popular option. Students in this ensemble perform a number of selections each semester with styles ranging from classic swing hits to modern jazz/rock fusion charts. Meeting Thursday evenings at 7:00 p.m., this group performs at the end of each semester.
Singers can find a place to perform in our recently renewed ESU Choir! Meeting weekly on Mondays and Wednesdays at 1pm, this ensemble sings a variety of works ranging from classical to pop, seasonal pieces to songs from musicals. In addition, selected vocalists may have the opportunity to join chamber vocal groups for more challenging works and to perform in the community!
For those wanting to take music coursework as part of earning their ESU degree, we offer a number of academic classes as well, including Music Fundamentals, Intro to Music, and Popular Music History.
Please contact Dr. Hodge at bhodge1@esu.edu for more information regarding any of the music offerings here at ESU!
Contact Us
Contact Information
Campus Address

Fine & Performing Art Center

Phone:

Fax:

(570) 422-3008 (Fax)
Title of Department Leader

Director of University Bands

Name

Brian Hodge

E:

Phone: