Undergraduate Programs
Make a Difference. Learn. Teach. Commit.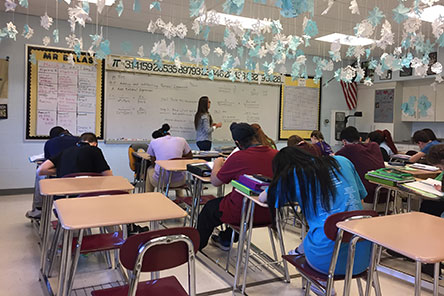 If you are interested in making a positive difference in the lives of junior high or high school students, you want to teach. At ESU, you major in a content area, and concentrate in Secondary Education. When you graduate, you will have a degree in your chosen content area and a concentration, which is the path to be certified in secondary education (Grades 7-12.). You will have two advisers: one in the major area and one in the department of Professional and Secondary Education (PSED).
ESU's teacher certification program is nationally accredited through the Council for the Accreditation of Educator Preparation, and has received the "gold standard" as Nationally Recognized.
Here are Orientation Overview Slides.
Major Steps in the Process
Declare your major: Choose a content area and choose a concentration in Secondary Education. You will have specific courses that you will need to take with your major. Here are most of the education courses needed for students preparing to teach secondary education in the Undergraduate Teacher Preparation checklist.
Advising: Meet with your PSED adviser every semester. Before Screening, you must have met the test requirements.SEE help PDE Certification testing Page , Pathways to Demonstrate Basic Skills for Teacher Certification Candidates and Composite Score Calculator (Excel) on that page. There are different test that you can take, but all test need to report math, reading and writing scores. More than one test may be used. The Praxis core is now offered online.
Courses: Take the entry level courses. Maintain a 3.0 QPA.
Field Experiences: Many education courses have "field experiences." You must have complete clearances. Review information at the Field Experience office.
Screening: Look over the screening process and requirements to make sure you are prepared.
Content Certification test - recommendation: Pass Certification tests otherwise you will need to before you are certified. Certification Tests: ETS - PA.
Student teach: To student teach all content and education course work should be complete. The Field Experience Office finds placements when you have fulfilled requirements. Please review the Field Experience requirements and timelines.
Finishing Up - Successful Student teaching!
Graduate: Apply for graduation.
Get Certified: Have a 3.0 QPA (or meet exceptions); make sure that you fulfilled all requirements; apply to the Pennsylvania Department of Education for Certification in your content area or another state.
Professional Licensure Disclosures and Distance Learning State Authorization: Applicants who are applying to programs that may lead to licensure in states other than Pennsylvania must be aware of the various state professional licensure requirements. Please see ESU's professional licensure disclosures, Evaluation of Conduct Record, and check licensure requirements by occupation and state at CareerOneStop.
Contact Us
Contact Information
Campus Address

Stroud Hall 209

Phone:

Fax:

(570) 422-3942 (Fax)
Title of Department Leader

Department Chair

Name

Beth Sockman

E:

Phone: