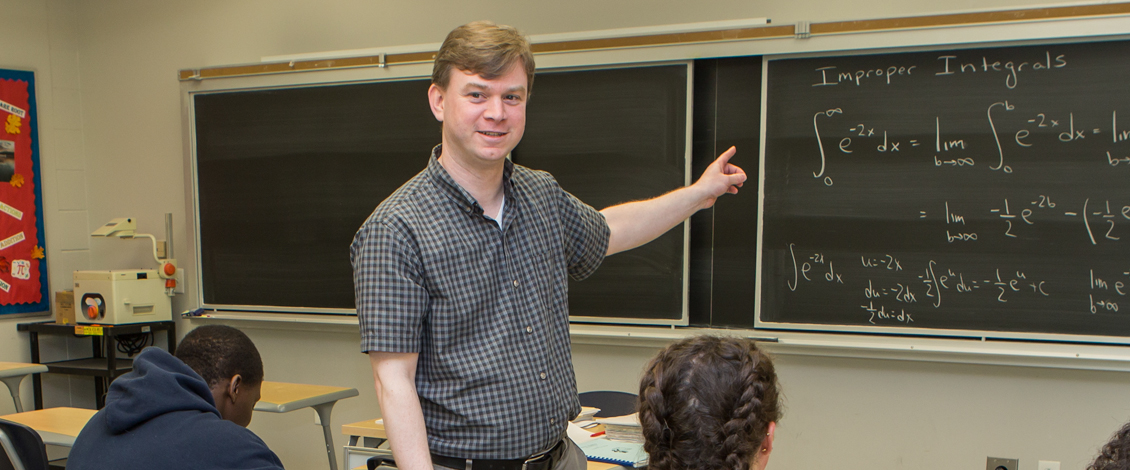 Mathematics
The Department of Mathematics offers three different majors as well as four minors.
All classes for majors are taught by regular faculty members who have doctoral degrees.
These classes for majors are typically small allowing the student easy access to the instructor both in and outside of the classroom.
Appropriate technology, including graphing calculators and computer programs such as Mathematica©, Excel©, Geometers SketchPad© and MatLab©, are used in the classroom and for assignments.
Our newest program is the B.S. in Mathematics – Applied Mathematics. This program combines a full major in mathematics together with a concentration in a specific application areas: Biology, Computer Science, Chemistry, Physics or Finance. Students in this program typically are planning on entering the work force after graduation, but the solid core of mathematics that they complete also prepares them for further studies, especially in areas that are heavily dependent on applied mathematical skills.
Students who are interested in a career in Actuarial Science will typically major in Applied Mathematics with a concentration in Finance. As a second option, the Mathematics Department now offers a Minor in Actuarial Studies.
For those interested in a career as a high school mathematics teacher we offer a B.S. in Mathematics – Secondary Education. This is one of our longest standing programs and reflects the University's origins as a Normal School. Students who complete this program have an excellent pass rate on the PRAXIS exams and are eagerly recruited by secondary schools.
Our third program, the B.A. in Mathematics, offers the students a solid knowledge of mathematics and the flexibility to pursue studies in other areas of interest. It prepares students for further study in mathematics as well as for employment in a variety of industrial and governmental areas.
Program Plans and Information
Contact Us
Contact Information
Campus Address

Science & Technology 118

Phone:

Fax:

(570) 422-3899 (Fax)
Title of Department Leader

Department Chair Mathematics

Name

Dr. Olivia Carducci

E:

Phone: