ESU's homepage features success stories, news, events and promotional items aimed "at the main homepage audience, prospective students."
Success Stories and News
Success Stories are featured in the top scrolling banner of the ESU homepage. Other recent ESU Insider press releases are featured in the News tab.
Please submit a publicity request to share your stories with Marketing and Communications for consideration in these areas.
Promotional Tiles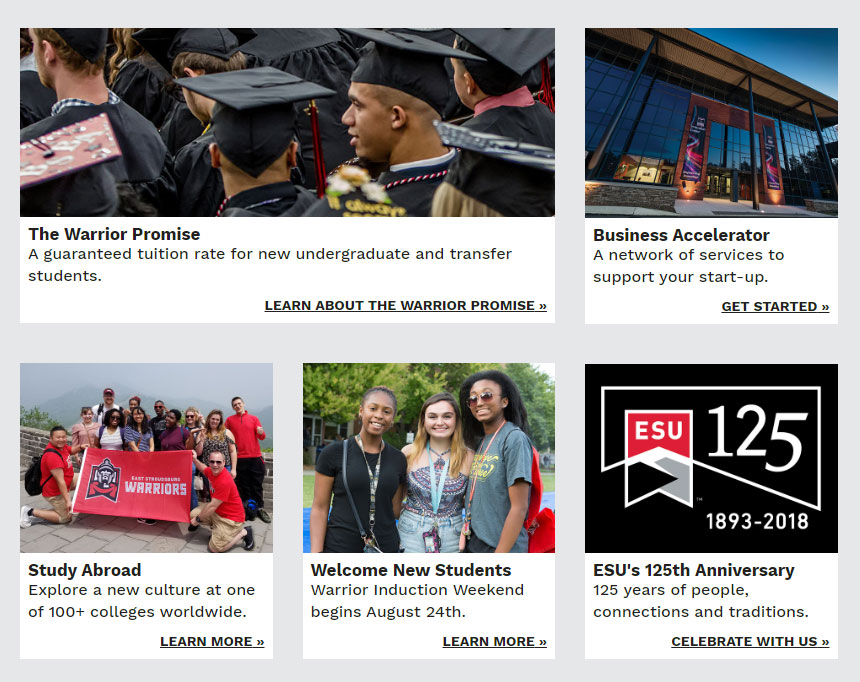 ESU divisions select the content for four promotional tiles, based on VP priorities or department requests. The criteria are up to each division, but tiles generally focus on the homepages primary, external audience and feature specific programs, events or initiatives. Tile content changes at least once per month (except summer) to keep the homepage fresh.
To suggest a program or initiative, contact the staff member designated by your VP:
Contact Us
Contact Information
Campus Address

Science & Technology Center

Phone:
Title of Department Leader

Senior Manager of Web Services

Name

Omar Williams

E: