The Master of Arts in History helps you develop skills to advance your career.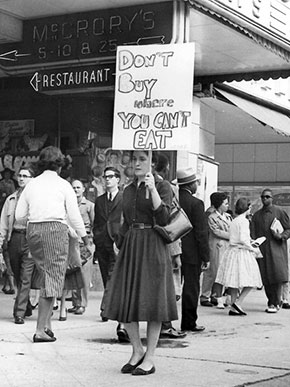 As a student in the program you will learn how to think critically about historical topics and narratives, to analyze primary source material from the past, to conceptualize and organize independent research projects, and to write clearly and persuasively.
Graduates of the program use these skills in the classroom as teachers and professors; at historical sites as park rangers and museum educators; and in historical societies, publishing houses, and many other areas.
Our exceptional faculty members offer specialized courses in areas related to their research interests. They also mentor students one-on-one, sharing their professional expertise and helping students hone their abilities.
Students in the M.A. program choose one of two concentrations: thesis or non-thesis. There is also a Public History Certificate, which can be incorporated into either concentration or completed as a stand-alone credential.
Thesis Concentration
The thesis concentration is for students who want to develop your research and writing skills to the fullest. After completing coursework, they work with a faculty member of their choosing on an original research project. This concentration is recommended for students who are interested in moving on to a Ph.D. program or who are passionate about a historical topic they want to explore in depth.
Non-Thesis Concentration
The non-thesis concentration is for students who want to develop their historical skills and content knowledge without writing a thesis. It can be combined easily with the public history certificate for students interested in that field, but is also appropriate for teachers who want to deepen their historical knowledge and understanding.
Courses Offered
Students in both concentrations select one area to specialize in, taking at least three courses in that area, and must take at least one course in the other two areas.
Contact Us
Contact Information
Campus Address

Stroud 409

Phone:
Title of Department Leader

Graduate Coordinator

Name

Shannon Frystak

E:

Phone: