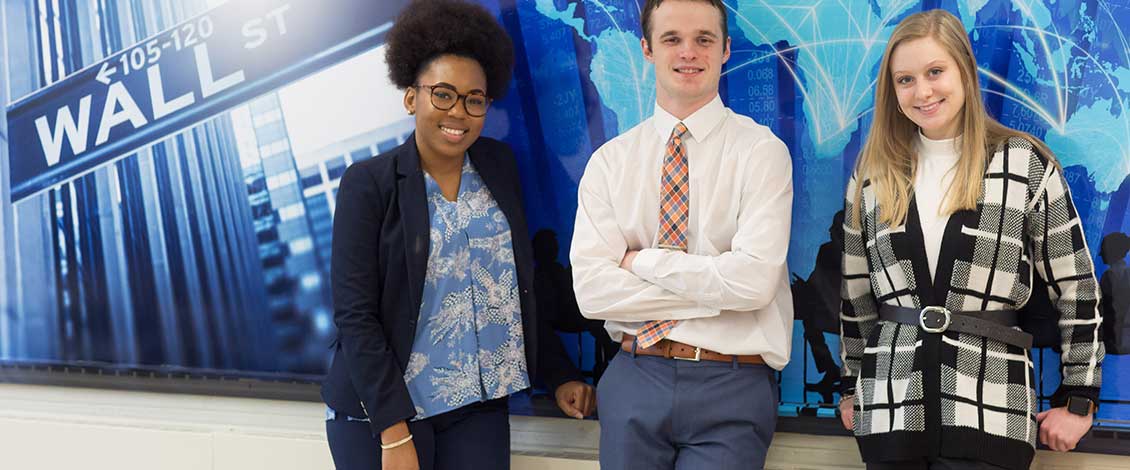 Accounting (M.S.)
The Master of Science in Accounting program at East Stroudsburg University is a 30-credit, non-thesis professional degree that can be completed in 12 months and also delivers an affordable "4+1" bachelors and master's degree trajectory.
This program is the only graduate-level Accounting program within a 60-mile radius, and just the third in Pennsylvania's State System of Higher Education.
Upon completion, students are qualified to sit for the Uniform Certified Public Accountant (CPA) examination. Accounting professionals are among the top 15 most demanded professions, according to the Bureau of Labor Statistics, and the means by which organizations communicate vital financial information.
The program's approach is a blend of online and traditional classroom instruction, for both continuing undergraduate accounting majors and working professionals – allowing future leaders within the accounting profession expand their skills set to display critical and analytical thinking, a sense of history, objectivity, a global perspective, an ethical mindset, ability to synthesize across disciplinary areas and comprehend complex ideas, exemplary oral and written communication skills and computing skills, among others.
Graduates are likely to pursue careers as controllers, chief financial officers, government accountants, budget directors, internal or external auditors, forensic accountants, firm valuation experts, personal and corporate tax accountants, and non-profit organization accountants.
The prospects of accounting are very promising with an anticipated growth rate of 10 percent by the year 2026 and a continued demand gap for accounting professionals in Pennsylvania (Bureau of Labor Statistics [QCEW and OES], Pennsylvania Department of Labor & Industry).
The uniqueness of ESU's Master's program is that it appeals to both accounting and non-accounting majors and to the demographic needs of the region. Accounting undergraduate majors, especially those at ESU, will have an opportunity to seamlessly transition into a graduate program that will enable them to earn both an undergraduate and graduate degree in accounting in five years and to acquire necessary skills and credentials to achieve board certification. Non-accounting majors seeking a change in career paths may achieve similar results with some remedial coursework.
ESU's M.S. in accounting degree, following the recent addition of the undergraduate B.S. in Accounting, creates a 150-credit program that allows students to be considered qualified to sit for their CPA examination.
For more information about ESU's Master of Science in Accounting, contact Professor Robert Thomas, CPA, Graduate Coordinator or Graduate and Extended Studies.
Professional Licensure Disclosures and Distance Learning State Authorization: Applicants who are applying to programs that may lead to licensure in states other than Pennsylvania must be aware of the various state professional licensure requirements. Please see ESU's professional licensure disclosures, Evaluation of Conduct Record, and check licensure requirements by occupation and state at CareerOneStop.
Contact Us
Contact Information
Campus Address

Gessner Science Hall 301

Phone:

Fax:

(570) 422-3308 (Fax)
Title of Department Leader

Graduate Coordinator

Name

Robert Thomas

E:

Phone: