Inclusion Poster Project
The Inclusion Poster Project, a student art-and-design exhibit aimed at fostering dialogue about how the University's scholarly community can promote inclusion and diversity. Posters will continue to be exhibited through the virtual Madelon Powers Gallery.
---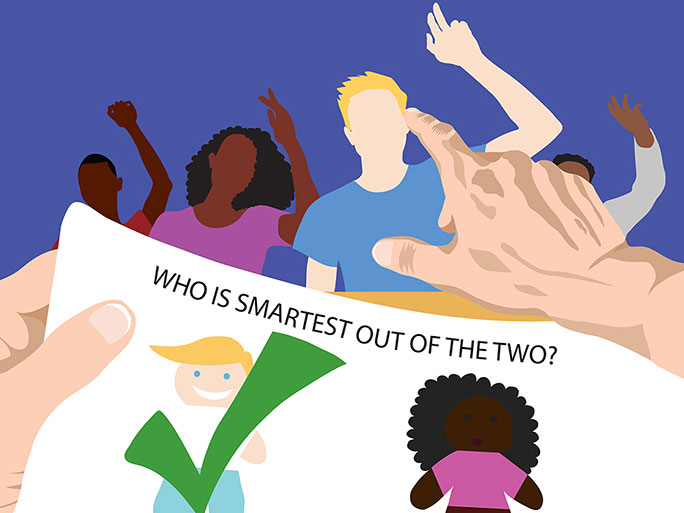 As was with the first and second initiative, this year's inclusion art project and show is an interdisciplinary collaboration between faculty members and students associated with Graphic Design and Human Rights and Freedom classes from Fall 2020 and is being led once again by Professors David Mazure (Art+Design) and Storm Heter (Modern Languages, Philosophy and Religion). This initiative is designed to stimulate discussion surrounding issues of inclusion and acceptance by sharing students' expression of their experiences. The Project as originally conceived is inspired by internationally renowned graphic designer Miro Ilic's memorable traveling poster exhibition featuring different views on "tolerance" that originally appeared on the streets of Sarajevo in 2015.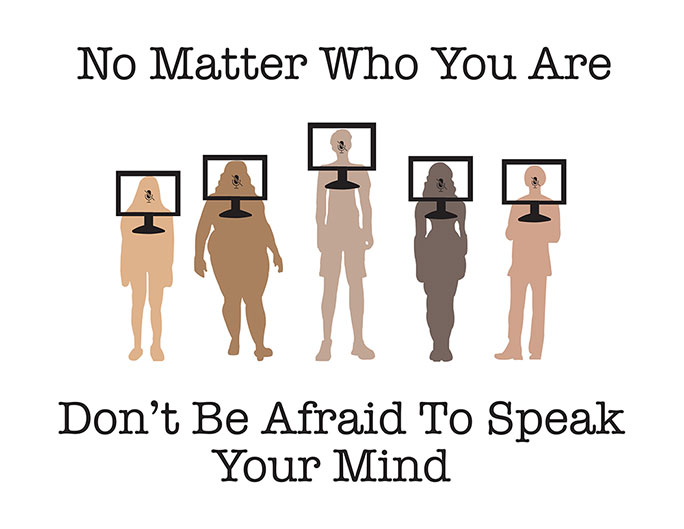 The first time we did this project, I was quoted as saying: "Life is all too often not a hallmark card, but rather a life consisting of challenging and opposing sentiments and perspectives in a multicultural landscape. Honest and respectful dialogue is more and more essential for moving a community forward for the common good - achieving solutions that emanate from a sense of equity and justice, and a willingness to engage in individual and collective introspection to advance the community to a 'better place.'" I still believe that today and commend both professors for their profound impact on our campus, our students, and our community. I fully support the faculty and students who have embraced the Inclusion Project this year, continuing to express their right to Freedom of Speech while creating opportunities for courageous and intelligent dialogue on issues of diversity and inclusion on our campus. Many of the posters deal with difficult issues, but they are educational in focus.
This poster project is intended to access your personal connection to the broader issue of inclusion. The project posed students in both classes asks the question: "How have you been affected by the negative or positive ramifications of diversity, tolerance, and inclusion, especially on ESU's campus?" and then asked them to: "communicate your own, unique perspective and personal relationship to topic of inclusion in the form of a poster."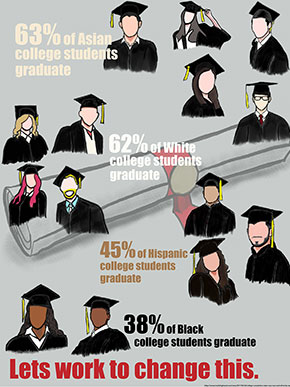 You may view all of the posters and the students' explanation by walking around campus and viewing the posters and accompanying student statements in person. If you are deeply moved in some way by any of the posters, we are also providing you with the opportunity to share your opinions and to give voice to how specific posters have influenced you.
Joanne "Jo" Z. Bruno, J.D.
Provost and Vice President for Academic Affairs
Contact Us
Contact Information
Campus Address

Fine & Performing Arts Center

Phone:

Fax:

(570) 422-3008 (Fax)
Title of Department Leader

Gallery Director

Name

Darlene Farris-Labar

E:

Phone: