East Stroudsburg University's First Artist in Residence - Margaret Cogswell
Dear ESU Art + Media + Design Department and ESU Community,
I write to you today with gratitude for the opportunity to be a part of your community as an Artist-in-Residence during this year of 2021.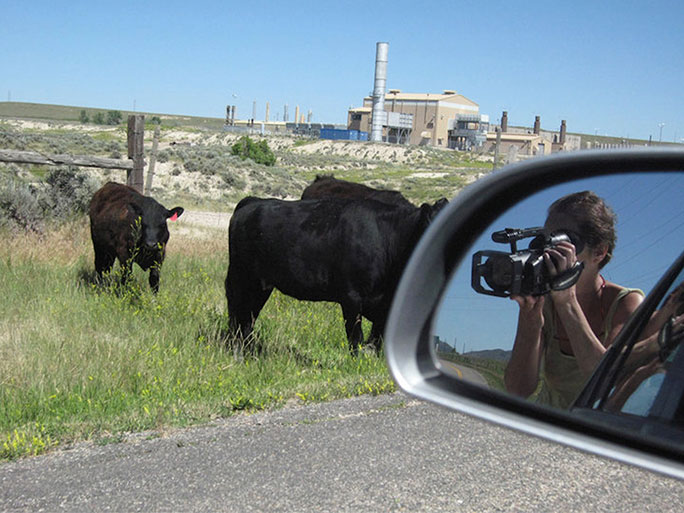 We usually imagine "in residence" to be in a particular "place" – a physical place/space shared with others. However, since March of last year, how we experience "place" has changed.
COVID19 has altered all of that. Now we share space while "socially distancing" and "place" is shared "virtually" or "remotely". All this, of course, has impacted every aspect of our lives. We are all struggling to figure out how to have a meaningful and full life in this new world. So, too, I must approach this special "residency" at ESU during another unusual year in a different way. But in terms of the creative process, our job is always to explore the unknown, so I am full of hope and curiosity, and eager to learn and work.
Through these journeys I have learned that although I always begin with a river, it's not just about its waters. It's about our relationships – to each other, to the land, and to all of our natural resources.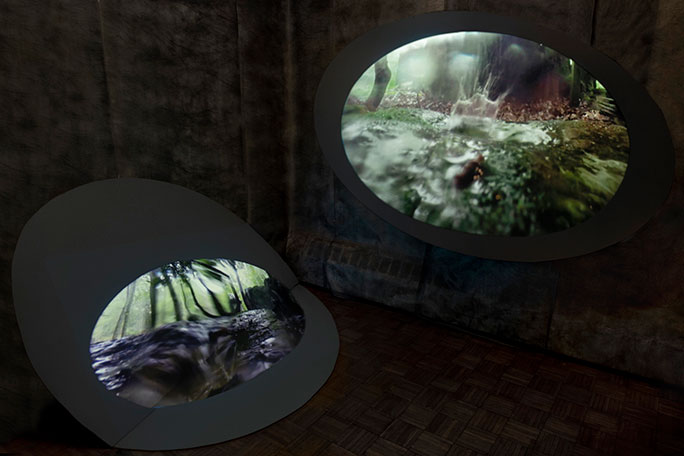 As I launch on my journey as "Artist-in-Residence" at ESU remotely, I come asking questions about "place" as well as "landscape". Searching for clues to how we define or think about "place" and how our current experiences are redefining these relationships, I have turned to Lucy Lippard's book, "The Lure of the Local: senses of place in a multicentered society". Equally important in my investigations has been Simon Schama's book, "Landscape and Memory". In it he explores how our memories (personal, collective, myths and/or histories) shape the way we approach and see the landscape. Schama also refers to researching the landscape by "directly experiencing the place" and using "the archive of the feet"- an approach mirrored in Robert McFarland's book, "The Old Ways: A Journey on Foot".
Over the last 18 years, my work has focused on rivers, exploring the interdependency between the life of rivers, people and industry. Because my work is researched-based, these explorations take me on many journeys to places along rivers in order to learn their stories.
Margaret Cogswell is a mixed-media installation artist residing in New York. Cogswell is the recipient of numerous awards, including the John Simon Guggenheim Memorial Foundation Fellowship in 2009. Other awards include fellowship grants from the Pollock-Krasner Foundation (2017-18, 1987, 1991) the New York Foundation for the Arts (2007, 1993); and Foundation for Contemporary Arts, Emergency Grant (2014). Cogswell was born in Memphis, Tennessee, and raised in Japan where she lived until she was 13 years old. She received her Bachelor of Arts degree in English literature from Rhodes College in Memphis, Tennessee and a Master in Fine Arts degree in sculpture from Mason Gross School of Art at Rutgers University in New Brunswick, New Jersey.

Since 2003, the main focus of Cogswell's work is an ongoing series of RIVER FUGUES projects that explore the increasingly politicized role of water. RIVER FUGUES is a series of individually unique mixed-media installations that explore the interdependency of people, industry and rivers. RIVER FUGUES began in Cleveland, Ohio with Cuyahoga Fugues, a mixed-media installation inspired by and incorporating generations of stories reflecting the life and dreams embodied by the Cuyahoga River.

RIVER FUGUES projects have since been commissioned by museums and art centers for exhibitions nationally and internationally. Some of these exhibitions include Moving the Water(s): River Fugues & Poems, Madelon Powers Art Gallery, East Stroudsburg University of Pennsylvania (solo 2019); Moving the Water(s): Ashokan Fugues, ART Lab Gallery, Columbus State University, Columbus, GA. (solo 2018); Moving the Water(s): Croton Fugues, Mid-Manhattan Library of New York Public Library, New York, NY ( solo 2017): Moving the Water(s): Ashokan Fugues, Kleinart /James Center for the Arts, Woodstock, NY (solo 2016): Water Soundings, Zendai Zhujiajiao Art Museum, China (solo 2014); Moving the Water(s): Ashokan Fugues and Wyoming River Fugues at CUE Art Foundation, NYC (solo 2014); Wyoming River Fugues at the Art Museum, University of Wyoming, Laramie (solo 2012); Mississippi River Fugues, Art Museum, University of Memphis, Tennessee (solo 2008); Hudson River Fugues at Tang Museum, Skidmore College, Saratoga Springs, NY, (group 2009-2010); River Fugues at BOZAR Centre for Fine Arts, Brussels, Belgium, Monaco Ministry of Culture and Chicago Field Museum (traveling group exhibition, 2007-09); Buffalo River Fugues at Hallwalls Contemporary Arts Center, Buffalo, NY (solo 2006); Hudson Weather Fugues at Wave Hill, NYC (group 2005), and Cuyahoga Fugues at SPACES Gallery, Cleveland, Ohio (solo 2003). Cogswell's professional career has also included teaching studio art at Purchase College School of Art and Design of the State University of New York; Rhode Island School of Design, Providence, Rhode Island; Kansas City Art Institute, Missouri; Parsons School of Design in New York and Kanazawa, Japan; the School of the Museum of Fine Arts, Boston; Middlebury College, Vermont; The College of Atlantic in Bar Harbor, Maine and the University of Hawaii-at-Manoa, Honolulu. From 1999-2011, Cogswell was Program Officer for the Visual Arts with the Asian Cultural Council in New York City.

For more information, visit Margaret Cogswell website.

RIVER FUGUES are a series of individually unique projects exploring the interdependency of people, industry and rivers. All River Fugues entail regional research, recording images and narratives with video and audio which are later edited into fugues and integrated into sculptural installations. My reason for using the fugue is because of its flexibility as a conceptual framework which can be applied to any set of components one is trying to integrate, be they sounds, voices, narratives or images.

My research/ video road trips follow rivers tracing memories and loss in the landscapes they cut through.They are landscapes of haunting histories filled with conflicting memories of hope, beauty, violence, destruction and loss. While the initial process for gathering materials parallels that of a documentary filmmaker, the videos upon completion do not follow a linear descriptive narrative.Instead my mentors are found in composers and poets.Of particular significance are Glen Gould and his narrative fugue, The Idea of the North, along with Anne Carson and her prose poem, The Anthropology of Water. Both artists stretch the boundaries of language and music, juxtaposing classical and contemporary ideas as conceptual points of departure for creating new work. Both artists challenge my own thinking as I seek to explore visual parallels in the development of my own fugues.

In Roland Barthes' Camera Lucida, he spoke of a memorable photograph as having the quality of "punctum", that is, the ability to pierce.As an artist, I strive to create work that pierces, is memorable, as well as intellectually and visually provocative. Often poignant elegies, these works reflect the complex and changing relationship of a society to its industries and rivers and strive to be a contributing artistic voice in a larger conversation addressing issues related to water.

For more Information visit Margaret Cogswell website.
Observing though the lens of our current experiences and in the spirit of Lippard, Schama and McFarland's approaches to research, I plan to explore "places" and "landscapes" by walking in and around the area of East Stroudsburg, as well as, in the areas around my home in NYC and the Catskills.
I will record these walks with photographs, video and audio. Mixed with memories, my creative responses will be in the form of drawings, writings and short video pieces.
I will share aspects of these "journals/recordings" with you virtually. I hope we can have "conversations" and perhaps exchange questions and aspects of your own "journaling", whether they be in the form of drawings, videos, photographs or writings.
In essence, we will share observations of this new world we are living in, in response to what we are experiencing, seeing and learning. I think it will be an inspiring year!
With respect and appreciation,
For assistance or special accommodations, please contact dfarris@esu.edu or (570) 422-3813. Accommodations may include, but are not limited to, services for physical, cognitive, visual or auditory assistance.
Contact Us
Contact Information
Campus Address

Fine & Performing Arts Center

Phone:

Fax:

(570) 422-3008 (Fax)
Title of Department Leader

Gallery Director

Name

Darlene Farris-Labar

E:

Phone: