...a small world : 2001
A Collaboration by Jennifer Zackin and Sanford Biggers
Exporing the similarities of social class between black and white America, artists Jennifer Zackin and Sanford Biggers present their very own childhood silent footage from the 1970's of both their families.
The video projection was created from super 8 films comparing Jewish and African American childhoods in the 1970s. The video was compiled from the artists' own family footage.
"...a small world" was initially presented in an installation with a shag carpet, 70's love seat, simulated wood panel.
---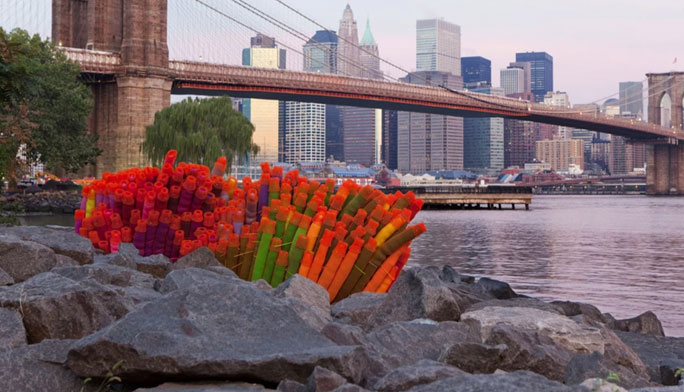 Jennifer Zackin - For the last 20 years Jennifer Zackin has been integrating public art, sculpture, installation, performance, collaboration, ceremony, photography, video, collage and drawing into acts of reverence and reciprocity. Whether wrapping trees in patterns of brightly colored rope, growing medicinal herbs in a public garden for public use, offering large masses of rose petals to oceans and lakes, creating absorbent tentacles ("hair booms") out of salvaged materials to aid in the clean-up efforts of toxic spills, Zackin seeks to engage and create community in her process, bringing art and ritual into everyday life. Every act is an exploration of exchange, communion, performance, skill-sharing and mark-making.
Writing in a catalogue essay about her work Lori Waxman states; "Jennifer Zackin has worked with Rose Petals, Little Plastic Cowboys, pre-Columbian symbols, bright handmade pom-poms, cheap mass-produced posters, coca leaves, and her grandfathers old Super-8 home movies. How she weaves them into rhythmic, often meditative forms depends in great part on the underlying pattern that she is able to detect and orchestrate among her diverse materials."
---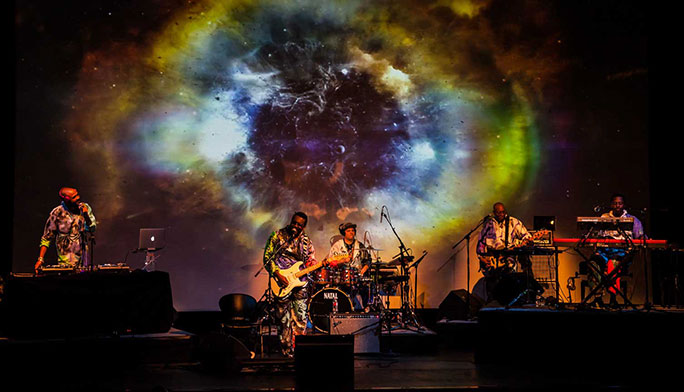 Sanford Biggers - Sanford Biggers' work is an interplay of narrative, perspective and history that speaks to current social, political and economic happenings while also examining the contexts that bore them. His diverse practice positions him as a collaborator with the past through explorations of often overlooked cultural and political narratives from American history. Working with antique quilts that echo rumors of their use as signposts on the Underground Railroad, he engages these legends and contributes to this narrative by drawing and painting directly onto them.
In response to ongoing occurrences of police brutality against Black Americans, Biggers' BAM series is composed of bronze sculptures recast from fragments of wooden African statues that have been anonymized through dipping in wax and then ballistically 'resculpted'. Following a residency as a 2017 American Academy Fellow in Rome, the artist recently began working in marble.
Drawing on and playing with the tradition of working in this medium, Biggers creates hybridized forms that transpose, combine and juxtapose classical and historical subjects to create alternative meanings and produce what he calls "future ethnographies". As creative director and keyboardist, he fronts Moon Medicin, a multimedia concept band that straddles visual art and music with performances staged against a backdrop of curated sound effects and video. Moon Medicin performed at Open Spaces Kansas City in October 2018 and at the Kennedy Center in Washington D.C. in 2019.
For assistance or special accommodations, please contact dfarris@esu.edu or (570) 422-3813. Accommodations may include, but are not limited to, services for physical, cognitive, visual or auditory assistance.
Contact Us
Contact Information
Campus Address

Fine & Performing Arts Center

Phone:

Fax:

(570) 422-3008 (Fax)
Title of Department Leader

Gallery Director

Name

Darlene Farris-Labar

E:

Phone: