East Stroudsburg University has a rich history of preparing Bachelor of Science students for careers within Exercise Science.
Exercise Science is the study of muscular activity and adaptations of the human body to this activity. The sub-disciplines of Exercise Science include Physiology, Biomechanics and Nutrition. In ESU's Exercise Science Department, undergraduate majors experience these sub-disciplines within our excellent facilities here at East Stroudsburg University by following our CAAHEP accredited curriculum.
What do students learn to do?
Assess health status in athletes, healthy adults and clinical patients
Develop exercise programs to enhance health status for healthy and clinical populations
Train athletes to enhance performance
Use nutrition to enhance performance
---
Choose from three Exercise Science concentrations.
All majors select a concentration, which provides the opportunity to specialize in an area of Exercise Science.
Therapeutic Sciences
---
This lab-based concentration with two internship experiences prepares for entry into professional school in physical therapy, occupational therapy, physician assistant studies, and chiropractic studies. It provides multiple clinical experiences to gain significant patient contact hours which are required for admission.
We have had high success getting students into professional school across the region.
Applied Clinical and Movement Sciences
---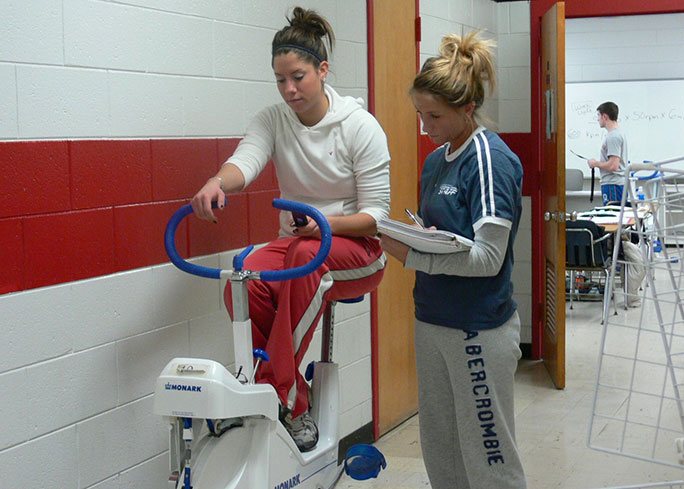 This lab-based concentration prepares student for exciting careers in research (pharmaceutical, apparel, footwear, medical device, performance), corporate wellness and entry into clinical exercise physiology.
Unique experiential learning is embedded in the curriculum to include an early internship opportunity in the sophomore year to sharpen skills in preparation for the independent work in the research and applied laboratories.
Sport and Exercise Conditioning
---
This internship-based concentration prepares for careers in sport performance, health & wellness, commercial fitness and strength and conditioning (collegiate and professional teams). It provides significant hands-on experiences above and beyond the internship requirements.
---
Career Opportunities
Graduates of the B.S. in Exercise Science program have earned positions as:
Performance Coach, St. Lukes Health Network Sport Performance, Bethlehem, PA
Group Fitness Instructor, Equinox Health & Fitness, Summit, NJ
Exercise Physiologist, Morristown Hospital, Morristown, NJ
Exercise Specialist, Mountain Valley Orthopedics, East Stroudsburg, PA
Exercise Specialist, Maximal Solutions Physical Therapy, East Stroudsburg, PA
Fitness Instructor, Retro Fitness, Stroudsburg, PA
Sport Performance Coach, Lehigh Valley Health Network Sports Academy Breinigsville, PA
Fitness Coach, YMCA, Easton PA
---
Hands-on Learning
Internship Program
All BS EXSC students must complete a professional internship as part of their program of study. We have over 230 approved sites across the nation in the areas of sport performance, collegiate athletics, physical therapy, occupational therapy, clinical exercise physiology, research, medical device, and wellness.
Lehigh University, Bethlehem, PA
St. Lukes University Health Network, Bethlehem, PA
Muscle Inc, Stroudsburg, PA
Lehigh Valley Health Network, East Stroudsburg, PA
Maximum Solutions, East Stroudsburg, PA
Liven Up Fitness, Bethlehem, PA
Laurie Samet PT, East Stroudsburg, PA
Mountain Valley Orthopedics, East Stroudsburg, PA
Parisi Speed School, Flemington, NJ
YMCA, Scranton, PA
Rutgers Univ, New Brunswick, PA
Advanced Physical Medicine & Rehab, Belmar, NJ
Atlantic Rehab, Madison, NJ
Lancaster Orthopedics, Lacaster, PA
Penn State, State College, PA
Sport & Spine Chiropractic Rehab, Lock Haven, PA
Theraplay PT, Quakertown, PA
Drayer PT, Harrisburg, PA
Good Shephard Rehab, Bethlehem, PA
Equinox, New York, NY
---
Specialized Facilities
ESU's facilities for Exercise Science include:
Human Performance Laboratory: house state-of-the-art equipment to assess human physiology-includes a BOD POD, Oxygen Analyzers, Blood Lactate and Blood Glucose Analyzers, Urine Analyzers
Kinesiology Laboratory: Houses the models of bone, muscles, soft tissue and organs. Houses computer stations with Motion Analysis software.
Applied Physiology Laboratory: This clinical lab houses the stress testing systems with full 12-lead ECG, balance assessments.
Research Laboratory: This all-purpose lab serves as the dedicated research space for BS and MS students in EXSC. It houses electrically breaked cycle ergometer, Environmental physiology experimental set-ups, resistance training equipment, and motor control assessment.
Biomechanics Laboratory: This lab houses our 3D cinematography system and force plates which analyzes gait patterns and other kinetic and kinematic markers in athletes and clinical patients.
---
Innovative Faculty
The Faculty of Exercise Science hold terminal degrees and professional credentials within the discipline while sharing their years of practical experience working in the field.
---
Learn more about ESU and the Exercise Science major.
---
For news, events and activities please follow Exercise Science
Contact Us
Contact Information
Campus Address

Koehler Fieldhouse 1st Floor

Phone:

Fax:

(570) 422-3616 (Fax)
Title of Department Leader

Department Chair, Exercise Science

Name

Shala Davis

E:

Phone:
here