Learn More
Clear Path Scholarships for Community College Transfer Students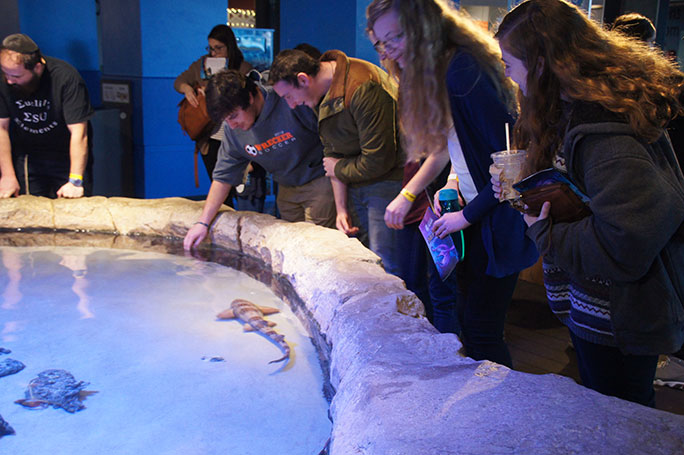 In the largest single grant ever awarded to ESU, the National Science Foundation (NSF) awarded $4 million to help transfer students complete their education at ESU.
The five-year grant for the project Clear Path provides scholarships for about 120 students who start their education at community colleges and transfer to ESU for bachelor's degrees in such fields as biochemistry, physics, computer science and mathematics.
Learn more about the research that guided the program design.
Goals
Increase college degree completion among community college STEM* transfers to ESU.
Establish a Clear Path - Increase communication and curriculum coordination among ESU and area community colleges.
Provide scholarship money and additional support for community college STEM transfers.
Clear Path Scholars
Will be selected from STEM applicants transferring to ESU from community colleges.
Must demonstrate financial need.
Will be awarded a maximum of $10,000 a year in scholarships for their junior and senior year to enroll full time (minimum of 12 credits a semester).
Will attend Clear Path Scholar Seminars four times a year.
Will participate in other Clear Path social and support events.
Will be assigned a peer mentor who will help guide them on their path towards their bachelor's degree.
Will have no-cost tutoring available for STEM classes.
* Eligible majors: biochemistry, biotechnology, chemical biotechnology, chemistry, computer science, computer security, environmental studies, marine science, mathematics, physics -- secondary education concentrations may be eligible -- contact clearpath@esu.eduto inquire.
Unsure if your educational interests match an eligible major? Want advice on pursuing your dream of becoming a STEM graduate with a bachelor's degree?
Contact the Clear Path directors to discuss your educational and career expectations.
* This material is based upon work supported by the National Science Foundation under Grant Number 1564634. Any opinions, findings, and conclusions or recommendations expressed in this material are those of the author(s) and do not necessarily reflect the views of the National Science Foundation.
Contact Us
Contact Information
Campus Address

Science & Technology Center 232

Phone:
Title of Department Leader

Clear Path Scholarship

Name

E: