The Marine Science (B.S.) program at ESU provides students with hands-on, personalized instruction in marine science and extensive field experience in marine ecosystems.
ESU's Marine Science Program offers small class sizes, qualified and experienced faculty, and state-of-the-art field and laboratory equipment, including a new aquaculture facility on the ESU campus.
Students in this program have many opportunities for gaining hands-on experience in marine science and they take marine science field courses at the Chincoteague Bay Field Station in Wallops Island, VA.
All About Marine Science at ESU
All About Marine Science at ESU
What do students learn to do?
Students in the Marine Science program learn to capture and identify common marine organisms. They also learn to care for freshwater and saltwater aquaria and treat fish diseases.
Students in this program will learn to use oceanographic equipment to carry out experiments and analyze data, and to give presentations on marine science to both scientific and general audiences.
---
Career Opportunities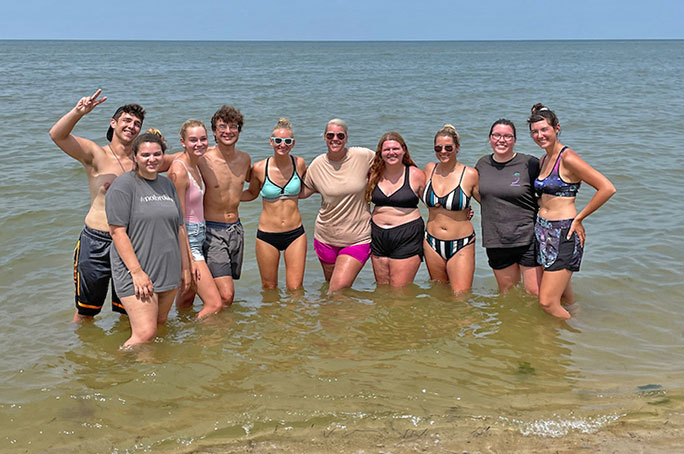 A degree in Marine Science from ESU prepares students for opportunities in fisheries biology, marine conservation, aquarium management, consulting, and research in government and private laboratories. Many Marine Science students also go on to graduate school.
It also prepares them to pursue advanced degrees in marine biology and oceanography.
Our alumni earn positions in:
Aquatic Land Manager
Environmental Consultant
Research Technician
Lab Coordinator
Education Specialist
Veterinarian
Biomedical Researcher
---
---
Innovative Faculty
ESU Biology courses are taught by 13 full-time faculty members who all have doctoral degrees and years of experience teaching and doing research in biology. Our faculty have diverse interests in Biology and remain active in their disciplines, and they share their enthusiasm and appreciation for biology with our students.
---
Learn more about ESU and the Marine Science major.
Contact Us
Contact Information
Campus Address

SciTech 224

Phone:

Fax:

(570) 422-3724 (Fax)
Title of Department Leader

Department Chair

Name

Josh Loomis

E:

Phone:
here