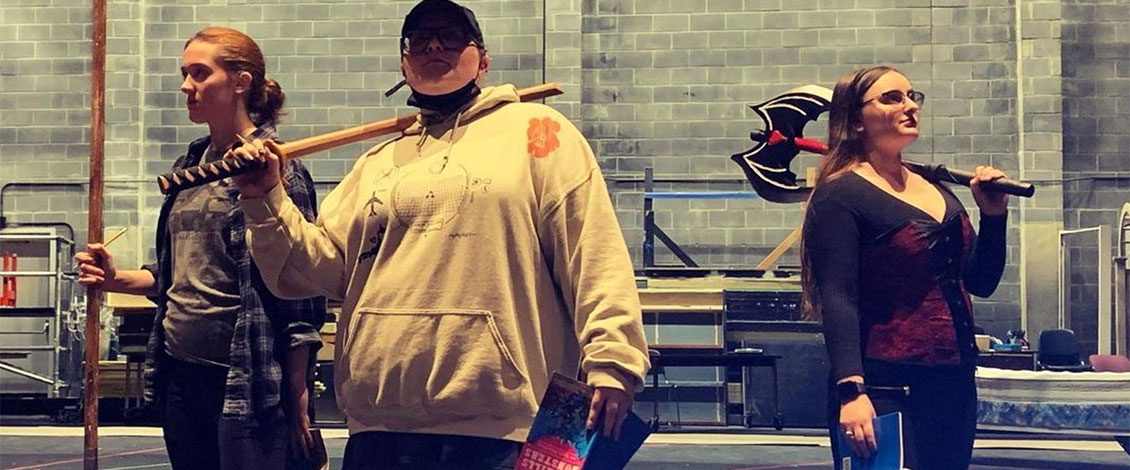 Theatre Performances
ESU Theatre Department's 2023 Spring Productions
Cabaret
April 20-23
Smith-McFarland Mainstage Theatre
Enter the avant-garde art scene of 1930s Berlin—a pulsing subterranean culture where people go to escape a crumbling culture and ignore the rising political tide. Into this world enters Clifford Bradshaw, a struggling American writer looking for inspiration for his next novel.
On his first night in Berlin, Cliff wanders into the Kit Kat Klub, a seedy nightclub overseen by the strange, omniscient, and gender-bending Master of Ceremonies, "the Emcee." Here, Cliff meets Sally Bowles, a vivacious, talented cabaret performer, and an utterly lost soul.
Sally and Cliff begin a relationship that will profoundly change both of them. With a distinctly Brechtian dose of provocation and a score that has become a classic American Musical, Cabaret is a fierce, meaty musical that pushes the boundaries of the form.
Performances:
April 20, 21 & 22 - 7:30 p.m.
April 23 - 2:00 p.m.
Pricing for all shows unless otherwise noted:
General admission, $15
Faculty/staff and senior citizens (with ID), $12
Students (with ID), $10
Youth (under 18), $5
**This production is recommended for audiences ages 12 and up as it contains sexual references and mild language.
Advanced ticket purchases are strongly recommended; however, we will accommodate at-the-door sales.
For reservations or other information, please email esuarts@esu.edu or call (570) 422-3694.
For assistance or special accommodations, please contact esuarts@esu.edu or (570) 422-3694. Accommodations may include, but are not limited to, services for physical, cognitive, visual or auditory assistance.
Contact Us
Contact Information
Campus Address

Fine Arts Building, 125 Fine Arts Drive

Phone:
Title of Department Leader

Box Office

Name

E: