Sweat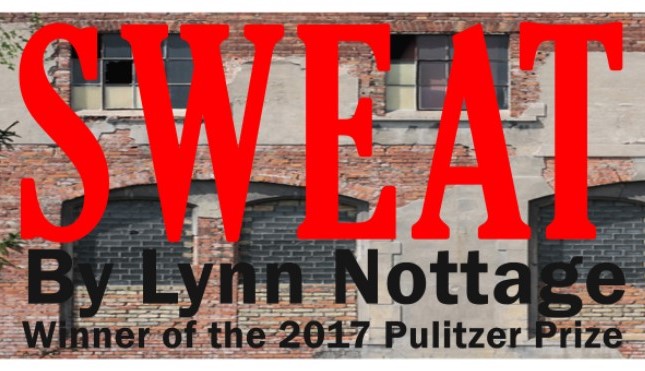 by Lynn Nottage
February 26-27-28, 7:30 p.m.
March 1-2, 7:30 p.m.; March 3, 2 p.m.
Dale Snow Theatre, East Stroudsburg University Fine & Performing Arts Center
Winner of the 2017 Pulitzer Prize for drama, Sweat focuses on factory workers in Reading, Pa. who are facing the decline of manufacturing jobs in America.
The New York Times noted that: "From first moments to last, this compassionate but clear-eyed play throbs with heartfelt life, with characters as complicated as any you'll encounter at the theater today, and with a nifty ticking time bomb of a plot. That the people onstage are middle-class or lower-middle-class folks — too rarely given ample time on American stages — makes the play all the more vital a contribution to contemporary drama."
Recommended for mature high school students and adults
General admission, $12; Faculty/staff and senior citizens (with ID), $10; Students (with ID), $7.
Because of limited seating in the intimate Dale Snow Theatre, advanced ticket purchase is strongly recommended.
Remaining tickets are available at the box office one hour before curtain on performance dates (cash and checks only at the box office).
Contact Information
Campus Address

Fine Arts Building, 125 Fine Arts Drive

Phone:
Title of Department Leader

Box Office

Name

E:

Phone: