The Biology (B.S.) program at East Stroudsburg University provides students with hands-on, personalized instruction in the fundamental biological principles and techniques for graduates to be successful in the careers and graduate programs of their choice.
The B.S. Biology program at ESU teaches students the fundamental biological principles and techniques for graduates to be successful in the career or graduate program of their choice. Biology faculty have a diverse background of skills and interests, and they mentor students on independent research projects in microbiology, animal and plant biology, pathology, and neuroscience. Our facilities include a microscopy lab including a scanning electron microscope, a research collection of thousands of preserved local animal and plant specimens, a greenhouse, an advanced molecular biotechnology laboratory, and a state-of-the-art marine aquaculture facility.
Our professional affiliations include the Jane Huffman Wildlife Genetics Institute (a leading Lyme Disease testing center in Pennsylvania), the Delaware Water Gap National Recreation Area, and USDA-APHIS.
What do students learn to do?
ESU Biology majors will learn fundamental principles of biology at both cellular and organismal levels. Students will learn standard laboratory techniques including microscopy, spectrophotometry, and polymerase chain reaction, and also standard field techniques used for studying local plants, animals, and ecosystems. Students will also learn about the hierarchy in the diversity of life and the characteristics of major lineages of plants, animals, and other organisms.
Students will learn the following fundamental and critical skills:
the ability to reason and think critically
sterile lab technique
laboratory safety
field study techniques
the proficient use of laboratory equipment including microscopes
the application of the scientific method
the ability to synthesize, analyze, interpret, summarize and present scientific data
recognize and relate the different levels of structure in biology from atoms through the biosphere
correlate structure with function at multiple levels
recognize the hierarchy in the diversity of life and identify the characteristics of major lineages of organisms
understand evolutionary theory
explain how genetic information is copied and transmitted
and understand ecological relationships among organisms
---
Concentrations
Biology majors are not required to declare a concentration. However, a student who wishes to focus their studies in one area may choose from among the following concentrations. Alternatively, students may use their elective courses within the general Biology major to further their knowledge in a specific area.
---
---
Career Opportunities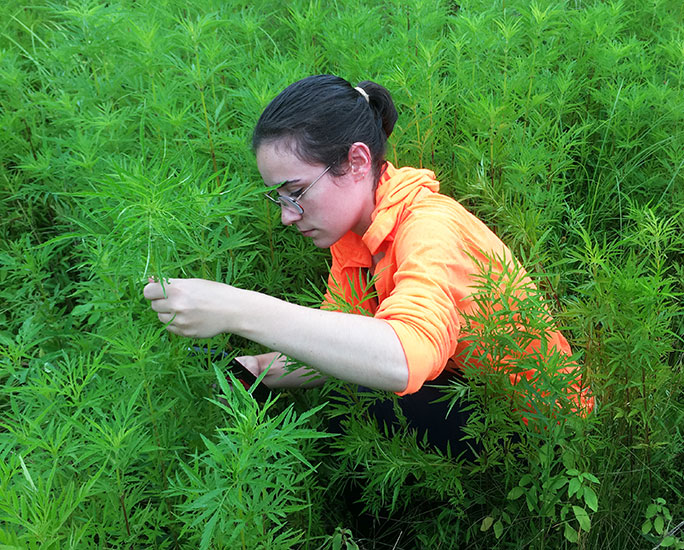 Graduates of ESU's Biology program go on to graduate programs and obtain jobs and build successful careers in a variety of disciplines and industries. Our graduates have been accepted into a wide range of graduate schools including biomedical programs, education programs, dental and medical schools, veterinary schools, physical therapy schools, physician assistant schools, and research programs in biological sciences.
Our alumni earn positions in:
Biology Technician and Teacher
Conservation Officer
Entomologist
Environmental Educator
Game Commission Officer
Histology Technician
Hospital Lab Scientist
Laboratory Technician
Naturalist
Ornithologist
Park Ranger
Research Technician
Wildlife Biologist
Zoologist
---
Internships and Research Opportunities
The Biology program partners with numerous organizations to offer student internships in a variety of fields. The most common organizations that provide internships are hospitals, clinics, and private medical offices; environmental organizations and consulting firms; pharmaceutical companies; and local, state, and federal scientific agencies. With these opportunities, students work closely with lab scientists and field biologists learning specialized techniques and gaining invaluable hands-on experience.
Additionally, many professors in the Biology program mentor student research projects in their disciplines. Students gain invaluable hands-on experience by gathering, analyzing, summarizing, and presenting scientific data and results. Some examples of recent student research projects:
Entomology: spotted Lanternfly field research
Mammalogy: monitoring local bat populations
Neurobiology: decoding complex mixtures of visual signals in the brain
Botany: plant/insect interactions with aphids and milkweed
Herpetology: monitoring of timber rattlesnake populations in Pennsylvania
Environmental studies: monitoring of freshwater invertebrates
Marine biology: substrate preference of the summer flounder in New Jersey
Microbiology: prevalence of Powassan virus and Lyme disease in local ticks; a novel aquatic microbacterium species that produces antibiotics; environmental changes that impact growth of a pathogenic fungal species.
Anatomy & Physiology: examining the tissues of stomachs in small mammals
---
Innovative Faculty
ESU Biology courses are taught by 13 full-time faculty members who all have doctoral degrees and years of experience teaching and doing research in biology. Our faculty have diverse interests in Biology and remain active in their disciplines, and they share their enthusiasm and appreciation for biology with our students.
---
Learn more about ESU and the Biology major.
Contact Us
Contact Information
Campus Address

SciTech 224

Phone:

Fax:

(570) 422-3724 (Fax)
Title of Department Leader

Department Chair

Name

Josh Loomis

E:

Phone:
here