3D Printing technology will create a demand for technicians, designers, and modelers in a wide array of fields such as art, product design, entertainment, manufacturing, and fashion.
There are growing opportunities for creative, innovative and entrepreneurial problem solvers in this rapidly growing field. Designers trained from East Stroudsburg University's Art + Media + Design program can develop creative and innovative products and solutions for a variety of industries and entrepreneurial activities.
Lab Features
9+ 3D Printers
Various 3D Scanners
CNC Milling Machine
Computer loaded with 3D modeling and design software
CNC laser cutter
Vinyl cutter
Die Cutter
Art + Media + Design Courses that Incorporate 3D Printing
Intro to 3D Printing
3D Design
Product Design 1
Product Design 2
Product Design 3
Sculpture
Materials and Processes
Digital Sculpture and Modeling
Advanced 3D Design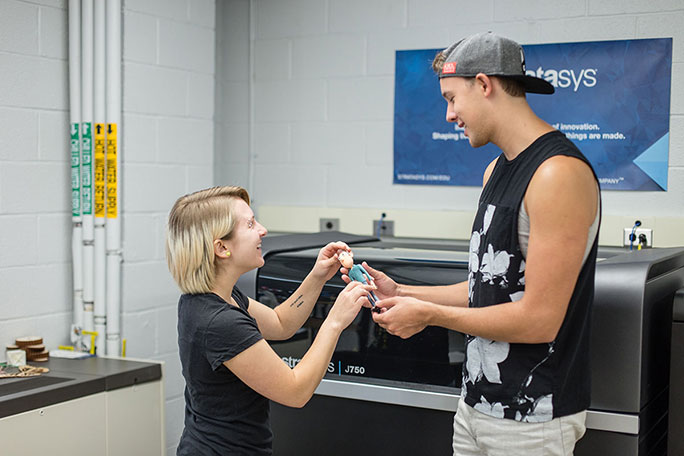 Students taking either a BA or BFA will have the opportunity to acquire skills in 3D printing and additive manufacturing. The Art + Media + Design department also offers a 12 credit 3D Printing Certificate designed to augment another academic area or add to your professional skill set. Courses in 3D printing and additive manufacturing, 3D scanning, design fundamentals, introductory and advanced 3D design software will increase your design competencies.
G3D -3D Printing Lab Faculty Director
Darlene Farris-LaBar
Professor of Art + Media + Design
dfarris@esu.edu
www.darlenefarris.com
For more information contact: Darlene Farris-LaBar, Professor of Art + Design at dfarris@esu.edu
Contact Us
Contact Information
Campus Address

Fine & Performing Arts Center

Phone:

Fax:

(570) 422-3008 (Fax)
Title of Department Leader

Department Chair and Gallery Director

Name

Darlene Farris-Labar

E:

Phone: