Do something cool this summer!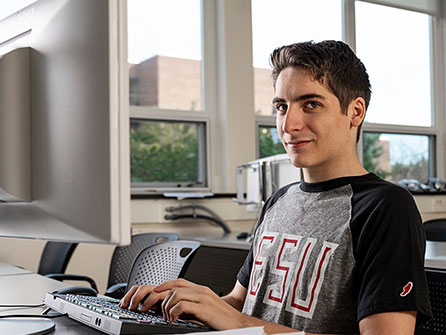 For current ESU students and readmit students, summer is a great time to catch up, stay on track or get ahead of the credits you need to reach your academic goals. Summer sessions begin May 16 and registration is FREE! So take a look at the courses being offered and register today!
If you are a current ESU student, register in the MyESU Portal:
If you are a readmit ESU student, welcome back to ESU.
A readmit student is a student who has previously attended ESU and want to return to campus to continue their studies after having been away for at least one semester.
If you are a readmit ESU student, register here:
---
Notice to Students taking Summer Courses: A new elevator is being installed in Koehler Fieldhouse. Consequently, the second floor will only be accessible by stairs. In the event you are registered for a course in Koehler on the second floor, and cannot use the stairs, please contact as soon as possible the office of Accessible Services Individualized for Students (OASIS) either by email at oasis@esu.edu or phone at (570) 422-3954.
Contact Us
Contact Information
Campus Address

Zimbar-Liljenstein Hall

Phone:
Title of Department Leader

Registrar

Name

Geryl Kinsel

E: