Each semester, the Psychology Department holds the Biannual Research Forum as a way to celebrate students' research accomplishments.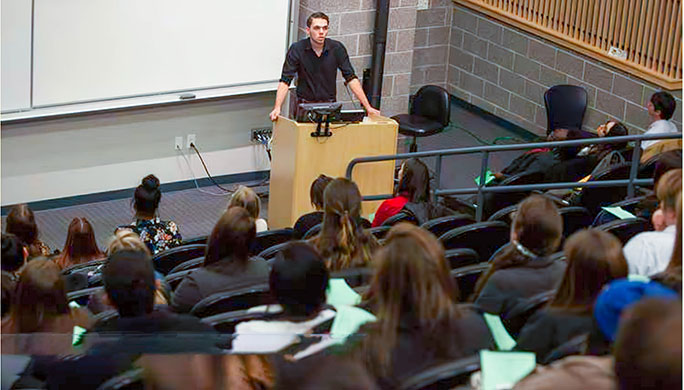 The Psychology Department Biannual Research Forum was started over twenty-five years ago by Dr. Sussie Eshun, professor of psychology, and Dr. Richard Wesp, retired distinguished professor of psychology, as a venue to showcase the outstanding student research being done in the Psychology Department. It has steadily grown since its inception and now includes numerous research and internship posters, student research presentations, student award presentations, and honor society inductions. The encouragement and recognition of student research are central aspects of the Research Forum.
What happens during the Research Forum?
At the Research Forum, selected student researchers give oral presentations discussing their recent empirical research projects. These presentations are similar to those that would be given at a professional conference, in that the students provide detailed accounts of their hypotheses, research methods, data analysis, and conclusions. During the Forum, the celebration of student excellence also includes the presentation of various awards and honors, including the Evelyn & Valerie Hodge Memorial Scholarship, the John Kramer Science Award, the John Kramer Service Award, the Drago Family Scholarship Award, and student inductions into Psi Chi: The International Honor Society in Psychology. In addition to the oral student presentations, there is also a research poster session in which students present studies conducted in various research-oriented psychology courses and an internship poster session in which students who recently completed their internships present information about their internship placements and experiences.
When and where is the Research Forum held?
The Research Forum is typically held on Tuesday of the last regular week of each semester. It usually begins at 2:00 p.m. in the Niedbala Auditorium of the Hoeffner Science and Technology Center. After the research presentations, award presentations, and honor society inductions conclude in the Auditorium, everyone then moves over to the first floor of Stroud Hall for the poster sessions and announcement of the John Kramer Science Award.
Contact Us
Contact Information
Campus Address

114 Stroud Hall

Phone:
Title of Department Leader

Department Chair Psychology

Name

Anthony Drago

E:

Phone: