Combine courses in mathematics, secondary education, and special education to prepare for a career teaching mathematics in grades 7 -12 or in working with student/adults with special needs.
Get all the benefits of our nationally recognized secondary education program with an integrated special education program.
ESU offers a dual major combining a B.S. in Mathematics (Special Education concentration) and a B.S. in Special Education, preparing students for Level 1 Licensure certification to teach both subjects in middle school and high school (grades 7-12).
All About Mathematics and Special Education at ESU
All About Mathematics and Special Education at ESU
What do students learn to do?
Problem-solving and logical thinking, like any math major.
Education skills, like writing lesson plans and classroom management.
Technical writing and presenting.
Recognize students with learning disabilities and techniques to help these students learn.
Adjust teaching methods to special needs students.
Provide the best education to all students.
---
Hands-on Learning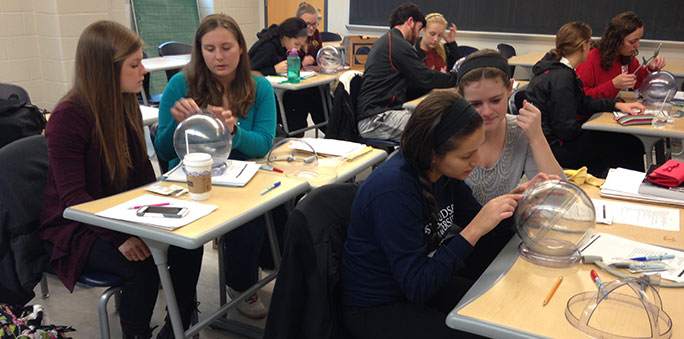 Like all math majors, dual majors in math/secondary education and special education participate in a service-learning project in MATH 425 Introduction to Mathematical Modeling.
The Spring 2018 class worked together to illustrate the state of childcare in Monroe County for the United Way of Monroe County. The students used data provided by the United Way to generate maps showing the locations of childcare centers and major employers in Monroe County. They used US Census data to determine whether childcare in Monroe county was affordable. The United Way representatives were very happy with the student's report.
Student teaching is the ultimate hands-on learning. Dual majors in math/secondary education and special education student teach in a mathematics classroom and in a special education classroom.
---
Innovative Faculty
Two math education specialists, several subject matter specialists, faculty from Professional and Secondary Education, and faculty from Special Education support the secondary education concentration.
---
Learn more about ESU and the Dual Major in Mathematics and Special Education.
Contact Us
Contact Information
Campus Address

Science & Technology 118

Phone:

Fax:

(570) 422-3899 (Fax)
Title of Department Leader

Department Chair

Name

Olivia Carducci

E:

Phone: