A Survey of Tick Species in Pennsylvania Elk Populations
A Survey of Tick Species in Pennsylvania Elk (Cervus elaphus) Populations with the Potential for Dermacentor albipictus (Acari: Ixodidae) to Pose a Future Epizootic Risk: A Baseline Study
By Elizabeth Calvente, Samantha Pelletier, Minh-Hanh Nguyen, Destiny Sample, Nicole Chinnici, and Justin Brown
Tick infestations on cervids can result in poor health and a reduction in survival rates, as well as contribute to an increase in overall tick populations. Infestations by winter ticks (Dermacentor albipictus) have proven to be especially devastating to moose populations in the northeast United States and Canada due to their single-host life cycle. Classic symptoms of winter tick infestation include excessive grooming and premature loss of winter hair, anemia and late winter mortality in calf, as well as weight loss, shedding of winter coat and death.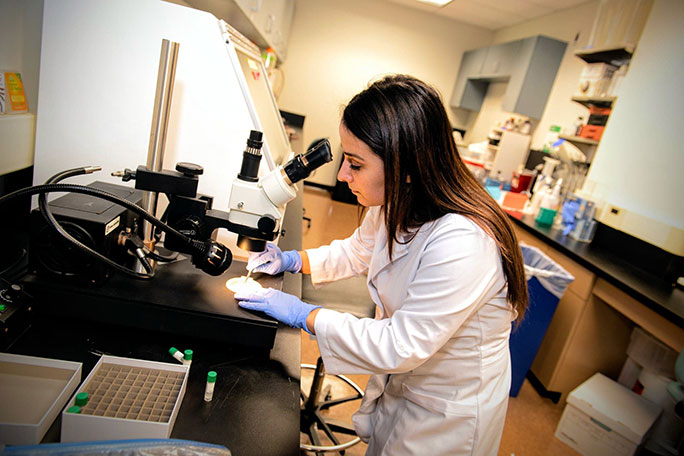 Not much is known of the impact winter tick infestations may have on elk, although there is concern the effects could be similar to infestations on moose. Currently, Pennsylvania elk are at risk due to genetic vulnerability from years of inbreeding after re-population occurred in 1903. This combined with the recent confirmation of winter ticks throughout Pennsylvania has prompted a survey of tick species within Pennsylvania elk populations to determine the current risk.
Ticks collected from Pennsylvania elk during the 2017 and 2018 Pennsylvania elk hunt were surveyed to determine species, average tick load, and distribution. Elk were found in specific hunting zones throughout five counties: Elk, Clearfield, Clinton, Centre, and Cameron. Locations for elk and ticks were assigned based on where the elk was harvested. Ticks were identified based on morphological characteristics using microscopy and confirmed via genetic sequencing. This study is intended to create a baseline to monitor winter tick populations and their potential to pose a future risk to Pennsylvania elk.
Results of this study are pending publication, and as such will not be available until after publication has occurred. For more information on this project please email wildlifedna@esu.edu.
Contact Us
Contact Information
Campus Address

ESU Innovation Center

Phone:

Fax:

(570) 422-3724 (Fax)
Title of Department Leader

Director

Name

Nicole Chinnici

E:

Phone: