New Jersey Bobcat Population Study
Habitat fragmentation occurs when an organism's environment is divided into smaller, more isolated segments, often times resulting in population decline and ecosystem decay. Carnivores are especially vulnerable to these effects due to their low densities, large home ranges, and low tolerance by humans. By utilizing molecular techniques on collected hair samples, we can monitor population size and density in an effort to protect populations from severe decline.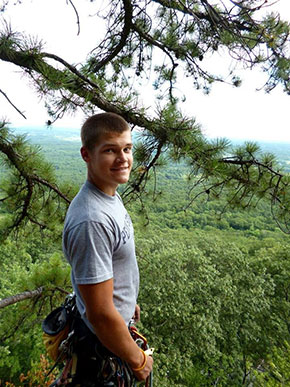 In this collaboration with the New Jersey Division of Fish and Wildlife, sites were chosen throughout New Jersey to set up either a cubby or rubbing tree station to collect hair samples from bobcats in a non-invasive manner. Both station types were set up with bait, a camera, and either gun brushes or adhesive tape in an effort to collect hair when the bobcat entered, exited, or brushed by.
Confirmation that collected samples were bobcat hair was achieved by extracting DNA and using a real-time polymerase chain reaction (PCR) protocol which targeted genes specific for bobcats. Microsatellites were then targeted and amplified using a multiplex PCR protocol. Each of the 6 microsatellite sites targeted were fluorescently labelled to be detected by the genetic analyzer. Once amplification of the microsatellite sites were complete, samples were genotyped using a genetic analyzer and the resulting genetic profiles were analyzed.
Of the 323 hair samples collected in the first field season, 42 were selected for further analysis through observation of morphological characteristics via microscopy. Upon further analysis, samples were considered truly positive if real-time PCR provided a positive result and there was footage on the camera showing a bobcat, or both real-time PCR and DNA sequencing provided a positive result. A total of 15 samples were confirmed as truly positive via real-time PCR and footage on the camera, and 2 were confirmed by positive real-time PCR and DNA sequencing results.
Due to low-yield DNA samples, genetic profiles via genotyping were created for only 25% of the 17 positive samples making it difficult to assess the data using a mark-recapture model. In the future, a presence-absence approach will be used to make population size and density estimates.
Several other species contributed hair samples to this study including, raccoon, gray squirrel, grey fox, red fox, opossum, fisher, skunk, black bear, whitetail deer, domestic dog, and domestic cat.
Contact Us
Contact Information
Campus Address

ESU Innovation Center

Phone:

Fax:

(570) 422-3724 (Fax)
Title of Department Leader

Director

Name

Nicole Chinnici

E:

Phone: