Hemogregarine infection in Pennsylvania and New Jersey turtles
Investigation into hemogregarine infection in Pennsylvania and New Jersey turtles with observations on their potential leech vectors.
By Larry L. Laubach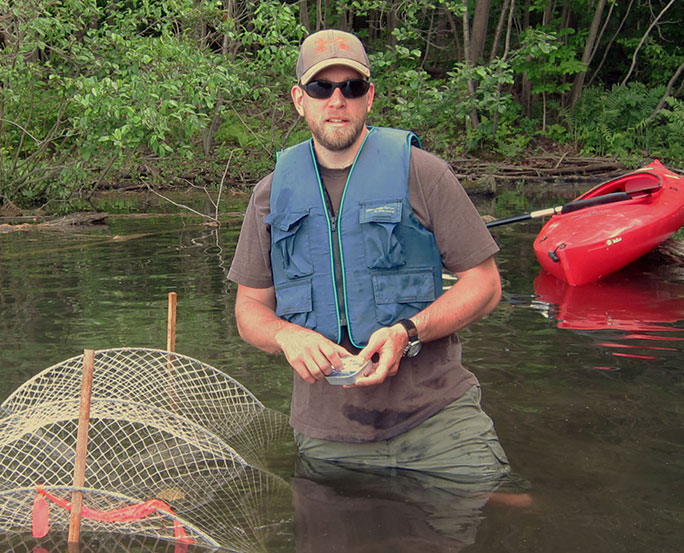 Haemogregarines are intraerythrocytic parasites, of the phylum Apicomplexa, which commonly infect turtles.
Studies on the prevalence of these infections throughout North America have shown differences between turtle species.
Attempts to explain these differences have pointed to morphology and behaviors which influence the turtle's susceptibility to the invertebrate host and vector, the leech Placobdella ornata>.
This study, conducted at ponds and lakes within the Delaware River basin, examined blood films from 493 turtles.
Species level prevalence was reported for the basking species Chrysemys picta and Trachemys scripta; and the non-basking species Chelydra serpentina and Sternotherus odoratus.
Differences in Prevalence and parasitemia of Haemogregarine infection were consistent with values previously reported.
Differences in hemogregarine intensity and leech parasitism were observed between the non-basking species which conflict with previous hypotheses on the factors influencing haemogregarine infection in turtles.
Additionally the leech P. ornata was not found, suggesting a vector not previously reported.
Contact Us
Contact Information
Campus Address

ESU Innovation Center

Phone:

Fax:

(570) 422-3724 (Fax)
Title of Department Leader

Director

Name

Nicole Chinnici

E:

Phone: