Co-infection of Lyme Disease and Powassan Virus in Ixodes scapularis (Acari: Ixodidae) Ticks Collected from New Jersey and Pennsylvania Black Bears (Ursus americanus).
by Kristine Bentkowski, Joshua Loomis, & Nicole Chinnici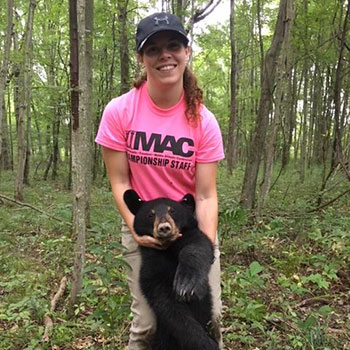 Tick-borne diseases are on the rise throughout the Northeast and Midwest United States. Reported Lyme disease cases have increased from 30,000 annually to 42,743, though the Centers for Disease Control and Prevention (CDC) estimate the true number to be about 427,430 cases per year. Powassan virus (POW) can cause a potentially fatal tick-borne encephalitis and is transmitted by ticks in the Ixodes family. Two separate lineages of the POW virus exist and are transmitted by different ticks.
POW virus lineage I is transmitted by the groundhog tick (Ixodes cookei) and tends to produce more severe symptoms, more frequently than lineage II. Lineage II is transmitted by the blacklegged deer tick (Ixodes scapularis) and is referred to as the deer tick virus (DTV). Unfortunately, not much research exists regarding POW virus lineage I or II.
Current research suggests a high co-infection rate of blacklegged ticks with both Lyme disease and DTV. With blacklegged tick populations and the number of Lyme disease cases on the rise in the Northeast United States, it is important to determine the prevalence of infected ticks and determine the rate of co-infection with POW virus lineage II and Lyme disease.
In this ongoing study, ticks were collected from black bears (Ursus americanus) in New Jersey and Pennsylvania and tested for the presence of Lyme disease and POW virus lineage II. To confirm infection, a TaqMan real-time polymerase chain reaction (PCR) assay was used to detect the 16S-23S intergenic spacer specific for Borrelia burgdorferi, the causative agent of Lyme disease, and a SYBR green reverse transcriptase real-time polymerase chain reaction assay was used to detect the NS5 gene specific for POW virus lineage II.
Additionally, the average tick load on black bears will be analyzed to determine their role in hosting, transporting, and spreading tick borne pathogens. The New Jersey Division of Fish and Wildlife and Pennsylvania Game Commission are active contributors to this study.
Results of this study will be available upon completion of testing. For more information on this project please email Wildlife DNA.
Contact Us
Contact Information
Campus Address

ESU Innovation Center

Phone:

Fax:

(570) 422-3724 (Fax)
Title of Department Leader

Director

Name

Nicole Chinnici

E:

Phone: