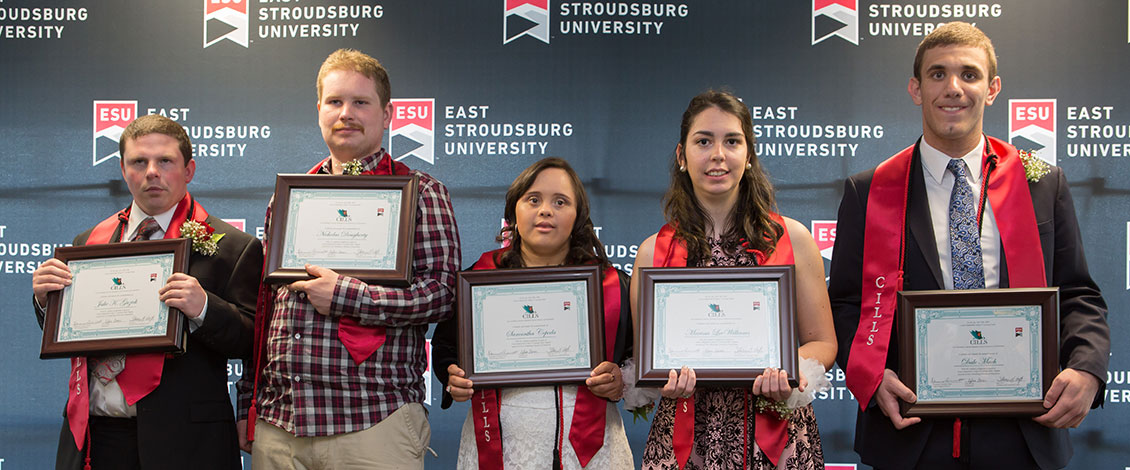 Career, Independent Living & Learning Studies
The Career and Independent Living and Learning Studies (CILLS) program will help young adults with intellectual and other developmental disabilities prepare to lead productive lives in their communities.
Hosted by East Stroudsburg University, Department of Special Education and Rehabilitation, we believe that everyone has the right to enhance their learning and realize their personal potential through higher education.
85%
Will live independently with supported services
80%
Will be employed (may require job coach)
80%
Entering the program will successfully complete it.
The CILLS program supports participants with disabilities to have a high quality learning experience within a university setting to foster learning, establish friendships, build self-confidence and work toward achieving their goals to work and live in an inclusive community.
We will set a high standard for excellence in providing individuals with disabilities a positive living and learning experience.
The program participants will be involved in learning experiences designed to meet specific individual needs, traditional opportunities of interest that are available to all participants at the university, and an internship that will provide them with practical work and community experiences.
This includes living in off campus housing and learning to function among their peers without disabilities on campus.
In essence, the program activities will include personal development situations combined with opportunities to develop essential skills for independent living and future employment.
This program is a non-degree certificate transition program that operates on a three-year cycle. The learning experiences will be instructed by the CILLS staff, with oversight by Domenico Cavaiuolo, Director and faculty in the Department of Special Education and Rehabilitation.
The following will provide a general overview of the learning domains that the CILL's program will offer.
Learning Experience Domains
Enhanced Academic Skills: Expand academic skills, to set a foundation for lifelong learning.
Career Development: Identify career goals and participate in activities that support future employment.
Community Independence: Achieve an increased level of independence and participation in community activities.
Social Competence: Increase social competence by developing personal social and work relationships.
Self-Advocacy: Practice self-advocacy and self-determination in academic and daily living.
Healthy Living: Assess one's own health needs, and actively engage in a healthy lifestyle.
Self-Enrichment: Pursue self-enrichment activities that match to personal goals.
Socialization/Leisure: Increase communication strategies, human relationships and understanding sexuality.
Program Objectives
To provide life skills training enabling the individual to successfully live independently.
To provide vocational training enabling the individual to acquire employment after completing the program.
To provide realistic and inclusive learning experiences and activities while utilizing the natural progression of a college campus as a higher learning opportunity.
To coordinate with all concerned parties (families, schools, service coordinators) in the development and implementation of specific objectives that increase independence in the community.
To provide an opportunity to experience community living and on a college campus and receive learning experiences that is individualized to the individual's needs.
Conflict/Dispute/Disciplinary Policies
Participants are required to maintain certain decorum for continued participation in the CILLS program. It is expected that all participants, regardless of their enrollment at ESU, albeit the CILLS program or any other degree program, must agree to follow all of the specific rules and regulations as prescribed by the university. It is understood that participants enrolled in the CILLS program may be more challenged than the traditional participant; therefore, a specific procedure has been developed to help them resolve issue that raise concern to their continued participation in the program. A Supportive Intervention Process has been established to assist participants to independently resolve these issues that may impact their continued involvement in the CILLS program.
Exit Criteria
Completes all required learning experience work and demonstrates proficiency in independent living skills within an appropriate time frame.
Unable to demonstrate measurable progress within each semester.
Conducts illegal activity including physical assaults, theft, harassment, illegal substance, threatens to inflict bodily harm to self/others.
Has a psychological, behavioral, medical, or academic need, which arises that cannot be appropriately served by program staff or community resources.
Elects to withdraw.
Contact Us
Contact Information
Campus Address

Stroud Hall

Phone:
Title of Department Leader

Program Director

Name

Dr. Domenico Cavaiuolo

E:

Phone: