First Year Engagement
What is the Purpose?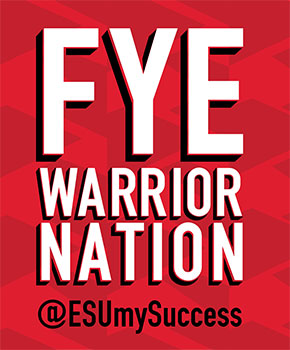 Welcome to ESU and this exciting new stage in your life. By making a strong academic start and forging campus connections early to the Warrior Community, you are much more likely to complete your first semester, to persevere through four years, and to graduate on time! For this reason, ESU asks all beginning students to complete the First Year Engagement (FYE) program, which consists of two parts: FYE–Academic Success and FYE–Campus Connections.
Fulfill all requirements and you can put your name in for a drawing which includes multiple exciting prizes like: $100 Textbook Scholarships, Television, Apple TV, Nintendo Switch, Laptop, Tablet, Fitbit, CAB Trip registration, Parking Pass, Pizza Party for you and your friends, and more!
How Do You Complete the Program?
The two FYE components each give you a "passport" to activities.
The FYE–Academic Success path will direct you to workshops on college-level study strategies and will acquaint you with academic support centers which provide tutoring, writing help, math coaching, and library research assistance. It will show you "how to" procedures for navigating the university, how to communicate with your ESU academic success network (through WARRIORfish), how to effectively explore a major, how to map out your eight semesters of courses (on DegreeWorks), how to register for classes, how to add or drop a class, etc. Becoming competent at these procedures will give you greater control and help you make the best choices for your college career. FIND YOUR Academic Success Passport on your D2L "FYE" page.
The FYE-Campus Connections path provides a structure of exposure to exciting programs that will connect you with your new Warrior Community. These events cover various areas of interest on campus, which include community building, recreation, diversity & inclusion, health & wellness, professional development, civic engagement, clubs & organizations, and more. The entire First-Six-Weeks event calendar is provided for you. Becoming acquainted with these initiatives will not only help you forge relationships with like-minded Warriors, but will also introduce you to possible leadership opportunities during your time at ESU.
First Year Engagement Cohorts
You will be assigned an Intro course within your major, or Health Promotion Lifetime Wellness Course. In your assigned course you will learn from a wonderful professor. Your mentor will attend the course with you, remind you of your FYE D2L page where you will have workshops and videos to view, and respond to questions so you are aware of all the great resources ESU has to offer. Also, to quickly learn the college lingo, please review the Quick Reference to University Terminology guide.
This virtual FYE - Academic Success Passport is found on one of your D2L pages -- the one titled "First Year Engagement - Academic Success". Open that page and click the indicated link to view the Passport. It is in the form of an easy-to-use checklist.
Each of these classes is a First Year Engagement cohort.

PSED 161-1
PSED 161-3
SPED 102-1
SPED 102-2
EXSC 100-1
ATEP 100-2
HLTH 210-1
HLTH 210-2
HLTH 210-3
SPPA 121-1
HRTM 101-1
MGT 200-2
MGT 200-4
DMET 110-1
HPLW 105-1
HPLW 105-2
HPLW 105-3
HPLW 105-4
HPLW 105-5
HPLW 105-6
HPLW 105-9
HPLW 105-10
PETE 100-1
PETE 100-2
PHIL 121-1
PHIL 175-H
PHIL 175-H1
The Department of Academic Success is also here to support you and answer any questions. If you have any other questions about your Peer Mentor please email ESUPeerMentors@esu.edu.
Contact Us
Contact Information
Title of Department Leader

Director of Warrior Success Advising and Retention Program

Name

Jessica Santiago

E:

Phone: