Mary Gertrude Smith Boddie Scholarship Award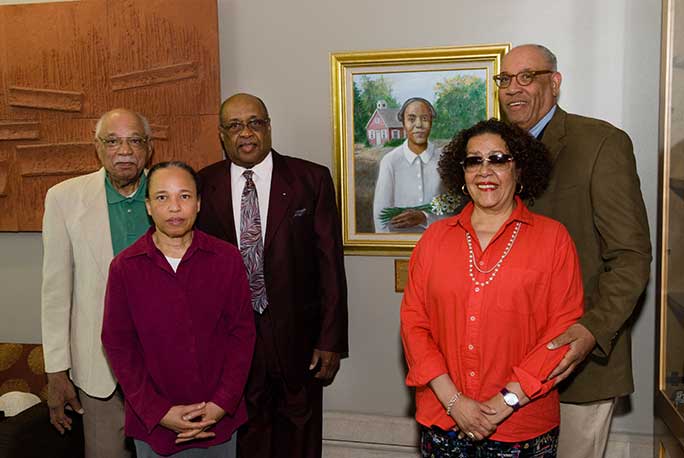 In 1904, Mary Gertrude Smith Boddie was the first student of color to graduate from what is today East Stroudsburg University; she was also the first African American to graduate in a Pennsylvania State Normal School.
This scholarship has been established to assist in the retention of matriculated full-time students of color at ESU.
Scholarships will be awarded to four students during this event.
---
Boddie Scholarship Application
This is an application for the Mary Gertrude Smith Boddie Scholarship. This scholarship is named for Mary Gertrude Smith Boddie, who, in 1904, was the first black student to graduate from East Stroudsburg University of Pennsylvania. There will be four scholarships, each in the amount of $3,800.00 that will be awarded to four students and credited to the Spring, 2024 semester. Winners are chosen based on individuals who demonstrate, through community service work, or university involvement a commitment to Dr. King's philosophy of non-violence, equality, justice, cultural diversity, and a respect for humanity.
Undergraduate students of color who meet the criteria will be eligible to compete for this scholarship annually. Recipients will be selected and notified by the Scholarship Committee in early December. The scholarship award will be presented at the 27th Annual Dr. Martin Luther King, Jr. Celebration Breakfast on Monday, January 15, 2024.
*Please note, previous Boddie Scholarshipawardeess are not eligible to apply.
Application Deadline Date: November 3, 2023
Criteria:
Award is available to undergraduate students of color.
At least a full-time sophomore (30 semester hour credits or more completed) at the time of application.
A minimum grade point average of 3.0.
An essay of no less than 250 words that describes how your commitment to non-violence, equality, justice, cultural diversity and respect for humanity is demonstrated through community and/or university involvement.
A current resume that includes all volunteer activities
One recommendation letter that describes your community service work or university involvement is required. Please have recommendation letters sent to lallotey@esu.edu.
Submit one page biography of yourself.
Award is contingent upon submission of a completed FAFSA and demonstrated financial need.
An applicant who receives a tuition waiver does not qualify.
Good social standing on campus as per ESU student code of conduct.
To confirm receipt of scholarship application email lallotey@esu.edu.
Note: Save your document with the following information: First Initial, Last name, and document type (i.e. Mary SmithMSmithessayy andMSmithbioo)
Contact Us
Contact Information
Campus Address

96 Normal Street

Phone:

Fax:

(570) 422-3897 (Fax)
Title of Department Leader

Multicultural Affairs

Name

Phone: