Warrior Notes compiles all or most campus-wide messages into one, concise communication. The bulleted list of notifications and reminders is sent to all students, faculty, and staff via email every Monday, Wednesday, and Friday. If your message should not be sent to all faculty, staff, and students, please request a campus email targeted towards either our faculty/staff or student lists.
Warrior Notes Requirements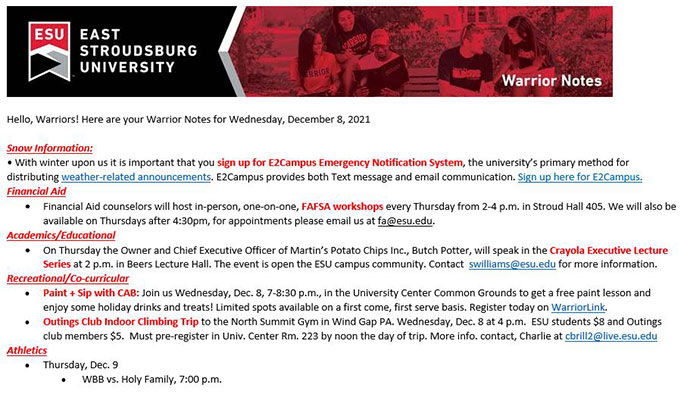 All messages should be sponsored by an ESU department or organization and should be relevant to the ESU campus community. ESU does not promote outside businesses or restaurants.
Messages will be limited to 280 characters. You are encouraged to link to a page on ESU's website for more information.
To eliminate repetitive information in each edition of Warrior Notes the schedule will be as follows:

Monday's Warrior Notes will only contain information promoting campus events happening on Monday and Tuesday.
Wednesday's Warrior Notes will only promote Wednesday and Thursday events.
Friday's Warrior Notes will give you everything you need to know for the weekend (Friday, Saturday, and Sunday.)

All messages must be submitted with approval from:

Student organizations must have approval from the club's advisor.
Departments must have approval from dean or director.
SAA events must be approved by the director of SAA and the Vice President for Campus Life and Inclusive Excellence.

All Warrior Notes must be submitted, with all necessary approvals, by noon on Thursday of the week prior to when the message is to appear in Warrior Notes, regardless of the day it is scheduled to appear.
Contact Us
Contact Information
Campus Address

Reibman Administration Building

Phone:

Fax:

(570) 422-3846 (Fax)
Title of Department Leader

Director, University Marketing and Communications

Name

Elizabeth Richardson

E:

Phone: