ESU proudly includes gender identity in our non-discrimination policy in efforts to make our campus a welcoming home to all students, including those who may identify outside the gender binary.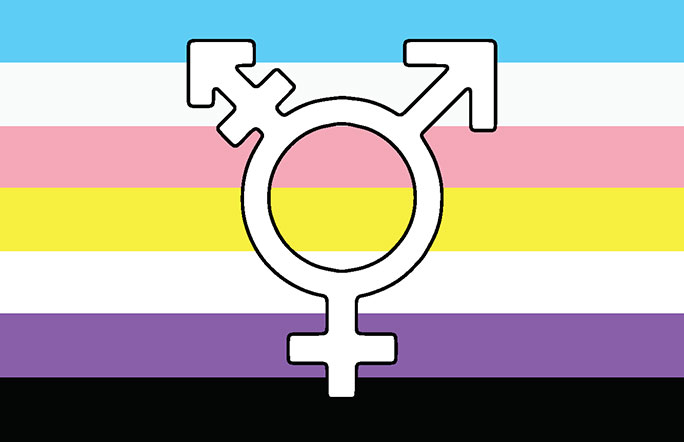 Below you will find important information for transgender and nonbinary students.
Name Change Policy
East Stroudsburg University supports students using their preferred or proper name throughout their time at the university. This would mean that a Preferred Name would appear on emails, class rosters, residence hall rosters, and other non-legal documents. However, there are instances when the legal name must be used including employment (W-2) paperwork and financial aid, for example.
Please note: once the preferred name is reflected in your MyESU Portal, you will still need to visit the Campus Card Center (lower level, University Center) to have a new eCard printed with your preferred name. You will also need to email helpdesk@esu.edu to request your email address be changed to reflect your preferred name.
For more information and to request use of a preferred name, please review the Preferred Name Policy and complete the request form.
Gender Inclusive Housing
Residence Life and Housing allows students to choose their roommates, regardless of biological sex, in Hemlock, Hawthorn, and Sycamore Suites. It is also offered in the University Apartments, and University Ridge for sophomore level students, and above. Double rooms (shared bedrooms) will remain single gender. Traditional dorms are shared bedrooms and will remain single gender.
Please contact the Residence Life and Housing Office for more information at (570) 422-3460.
Gender Inclusive Restrooms
Facilities Management Complex
Hemlock Suites, Residence Life Office
Laurel Residence Hall, Lobby
Mattioli Recreation Center, 2nd Floor
McGarry Communication Center
Starbucks on Campus, around the corner from the M/F bathrooms
Stroud Hall, All Floors, first door on both sides of bathroom areas
Sycamore Suites, ground floor, in Health and Wellness Office
University Apartments, Laundry Room (Building A)
University Ridge, Community Center
Healthcare Resources
The GSC realizes finding trans and non- binary friendly healthcare providers are not the easiest to find. This list will be helpful in finding local resources around campus for you to get the healthcare you deserve.
Lehigh Valley Health Network
LVHN is working to be added to the Healthcare Equality Index and offers healthcare options to trans and non-binary patients including Hormone Replacement Therapy (HRT).
Please Note: The Health and Wellness fee does cover services at the ExpressCARE but is very limited. It does not cover medication or testing, diagnostics, or imaging. ExpressCARE can refer students to other healthcare providers but they will not be covered by the Health and Wellness fee.
NOVUS ACS
NOVUS Adult Care Services is trans and non-binary friendly and offers free STI/ HIV Testing, HIV Prevention, and other healthcare solutions for STIs and STDs. They also offer financial assistance for PrEP and other prevention methods and treatments. NOVUS ASC is located in courthouse square, 28 N 7th Street, Stroudsburg, PA.
Allentown Women's Center
Allentown Women's Center offers Hormone Replacement Therapy (HRT), continuing care, and counseling referrals. They also offer birth control options as well as financial assistance. The Allentown Women's Center is located in Bethlehem, PA.
Contact Us
Contact Information
Campus Address

University Center, Room G-7

Phone:
Title of Department Leader

Interim Director

Name

Lyesha Fleming

E:

Phone: