The GSC offers a number of learning experiences led by trained student and staff.
As a Center we offer classroom visits, one- on- one trainings, and programming as well as large events over the course of the semester to nurture the campus's understanding of topics and research centered around gender and sexuality. Join us on WarriorLink and follow us on Instagram and Facebook for the most up to date calendar.
---
Discussion Groups
The GSC hosts many different discussions led by students. Students decide topics and themes for discussions related to gender and/or sexuality.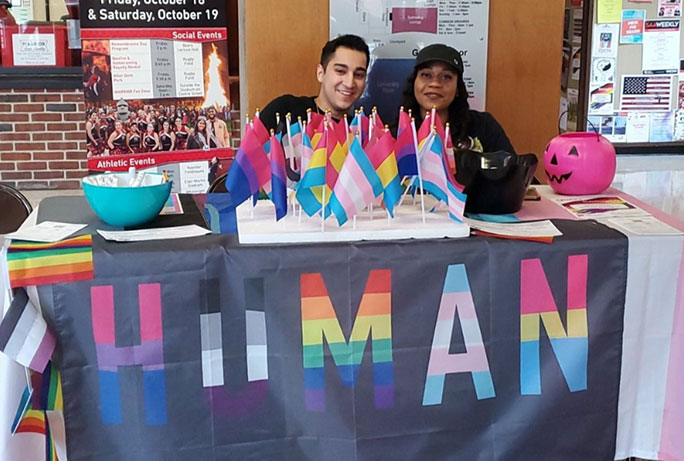 Behind Closed Doors
Are you questioning your sexual or gender identity but not sure how to take the first steps to figuring out your identity? Contact Lyesha Fleming or any of the Gender and Sexuality Center interns to set up an incognito meeting to discuss and process your feelings. They are also available via text if you are more comfortable sharing and processing your thoughts that way.
Gender Myth Busters
This weekly social media discussion challenges gender norms and make us question our own biases.
Not Your Parent's Sex Talk
This student run discussion group encourages students to have open and honest conversations about sexual activities.
Gendered Discussion Groups
These monthly groups are spaces to connect with others who identify with your gender to discuss social issues.
Masculinity on Monday
Women's Wednesdays
Gender Fluid Fridays
---
Campus-wide Annual Events
The GSC also hosts campus-wide programming to highlight ESU's support in advocacy for gender and sexuality related movements. Check out WarriorLink for upcoming GSC events.
Take Back the Night

Take Back the Night is designed to raise awareness about sexual and domestic violence, support survivors, and empower men and women to feel safe at night, while also advocating for bystander intervention.
Since the 1970s, thousands of colleges, domestic violence shelters, and rape crisis centers have held Take Back the Night events all over the country, focusing on eliminating sexual and domestic violence in all forms.
Shades of Violet Graduation Ceremony
Shades of Violet, or purple, hold significant meaning to the Gender & Sexuality. Different shades of purple have been connected to the history of the Women's Rights movements as well as the LGBTQ+ Movement. In our constant efforts in working on creating inclusive spaces, we created the Shades of Violet Graduation Ceremony to honor our LGBTQ+ and Feminist graduates.
Contact Us
Contact Information
Campus Address

University Center, Room G-7

Phone:
Title of Department Leader

Interim Director

Name

Lyesha Fleming

E:

Phone: