Faculty members of the ESU Chemistry and Biochemistry Department engage in research projects that often result in papers or presentations at science conferences. Students can gain research experience essential for their postgraduate and/or other professional aspirations.
ESU provides state-of-the-art technology for their research laboratory instrumentation, including: Fluorescence Spectrophotometers, Analytical (HPLC) High- Performance Liquid Chromatography, (GCMS) Gas Chromatography Mass Spectrometry, AA Atomic Analyzer, Environmental NexION ICP-MS, FTIR Prestige Spectrophotometer, (600 MHz NMR) Nuclear Magnetic Resonance, (UV-VIS) Ultraviolet/Visible Spectroscopy, and (LC/MS-QTOF) Liquid Chromatography Mass Spectrometer - Quadrupole Time Of Flight.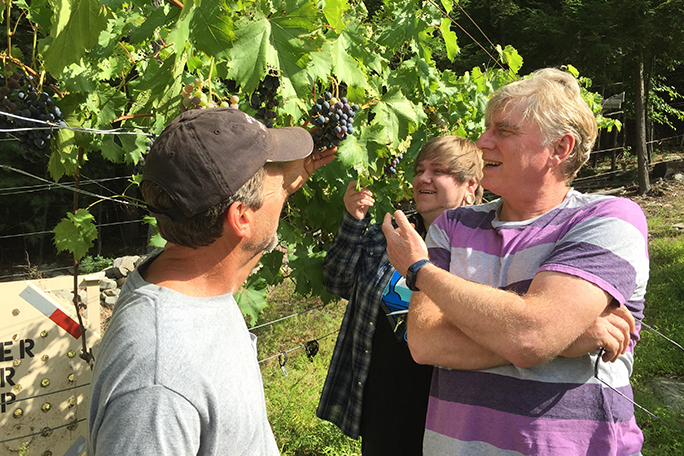 Dr. Richard Kelly and Dr. Jon Gold conduct research with undergraduate students to develop instrumental methods for the analysis of substances of interest to regional winemakers, brewers, and distillers.
Relevant presentations (*denotes student co-author)
Samantha Miller*, Conrad Richman*, Jon S. Gold, and R.S. Kelly, "Analysis of Macro- and Micronutrients in Vineyard Petioles and Soils", Sigma Xi Research Forum, ESU Student Research and Creative Activity Symposium, April, 2018.
Phillip Reinhardt*, Samantha Miller*, Jon S. Gold, and R.S. Kelly, "Wine Analytics for Markers Important to Quality Control", ESU Student Research and Creative Activity Symposium, April, 2017.
Amber I. Hills*, Jon S. Gold, and R.S. Kelly "SPME/GC-MS Analysis of Dynamic Compositional Changes in the Volatile Components in Red Wine After Breathing", PittCon 2016, Atlanta, March, 2016.
Rachel J. Parise*, Christopher M. Stangl, and R.S. Kelly "Analysis of 1-Methylcyclopropene Absorption in Bananas and Cardboard, and Its Effect on Banana Volatile Profiles, PittCon 2014, Chicago, March, 2014.
Jon Gold, Rachel Vowcicefski*, and R. S. Kelly "Preliminary Headspace and SPME GC/MS Analysis of the Dynamic Compositional Changes in the Volatile Components in Wine – the Chemistry of Breathing", In Vino Analytical Scientia Symposium 2013, University of Reims, France, July, 2013.
Chris Stangl*, Rachel Parise*, and R.S. Kelly "Gas Chromatographic Analysis of 1-Methyl-cyclopropene (1-MCP) as a Growth Regulator in Bananas", Dow Chemical/AgroFresh, Spring Hill, PA, April, 2013.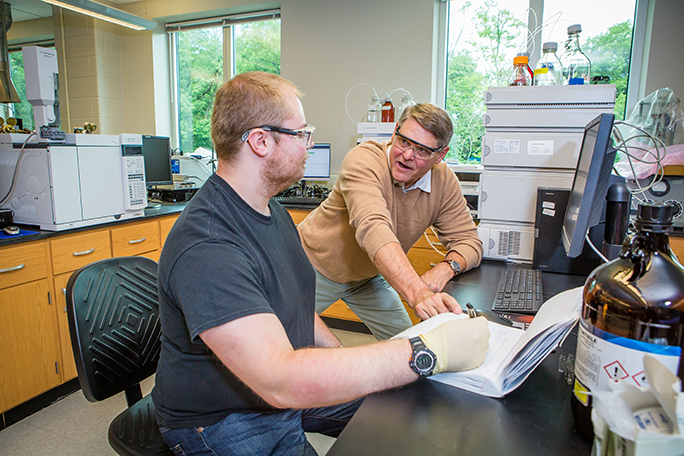 Dr. Richard Kelly – conducts research with undergraduates in the area of analytical methods development, with applications in environmental chemistry and the food industry.
Dr. T. Michelle Jones-Wilson's research currently encompasses 2 broad areas:
The Science of Teaching and Learning Students in the Jones-Wilson group participating in the STL area work to develop laboratory procedures that effectively illustrate concepts in the biochemistry and biochemical energetics areas. Students develop ideas, refine experimental parameters, communicate findings and finally lab test the experiments designed. She has developed systematic investigation research for water purification for distilled water sample analysis and module for physical biochem and protein.
The Science of Success Dr. Jones-Wilson is currently Principle Investigator on the NSF S-STEM grant Clear Path Bachelor's Degree Completion Scholarships. In Clear Path community college transfer students are supported in finishing their bachelor's degrees in 10 identified STEM areas. The Clear Path team (Co-PIs Dr. Olivia Carducci and Dr. Bonnie Green) work to understand how the grant identified developmental mechanisms work independently and synergistically to promote student success.
Dr. René Fuanta Fuanta Lab
Contact Us
Contact Information
Campus Address

Science & Technology 223

Phone:

Fax:

(570) 422-3908 (Fax)
Title of Department Leader

Department Chair

Name

T. Michelle Jones-Wilson

E:

Phone: