Chemistry and Biochemistry Laboratory Facilities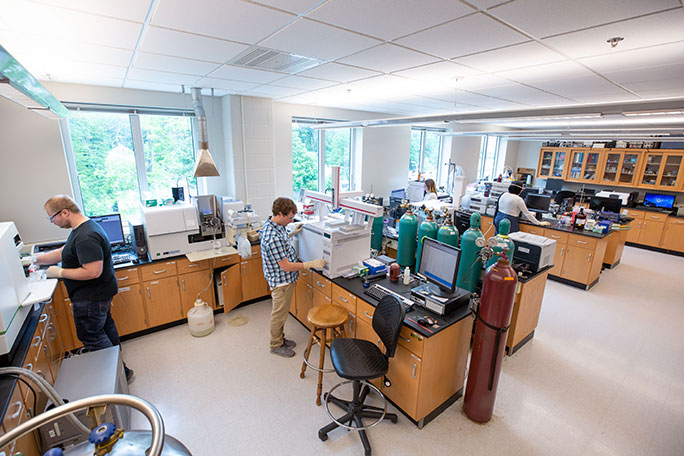 The mass spectrometry and separation facility, instrumentation room is located in the Science and Technology Center 262 and houses state-of-the-art mass spectrometers for the analyses of a wide number of samples. This facility works in collaboration with and performs analysis of samples from waterways, wineries, breweries, etc. in and around the Poconos. This facility is open to all researchers on the ESU campus, PASSHE Universities, collaborators, etc.
Instruments available in our facility includes a PerkinElmer NexION 1000 ICP-MS, Agilent 6545XT Advance Bio LC/Q-TOF, Agilent 6890N GC with 5975B inert XL MSD with Gerstel Auto-sampler Agilent 7890A GC, Agilent 1260 Infinity II HPLC Agilent 1290 Infinity II UHPLC Agilent 1100 HPLC Auto-sampler, etc. It also features a PerkinElmer AAnalyst 800 atomic absorption spectrometer, Magritek Benchtop Spinsolve Carbon 43 MHz NMR and several other instruments. Measurements include, but not limited to metal ion analyses, purity of (in) organic compounds, lipids, peptide, and protein analyses, etc.
For access to facilities you can contact either Dr. Richard Kelly, Dr. René Fuanta, Dr. Michelle Jones-Wilson, or Dr. William Loffredo.
---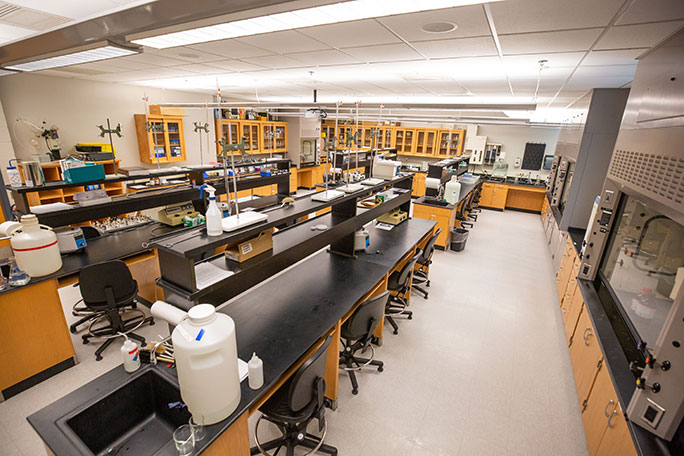 The molecular analyses and assay development laboratory (Analytical Lab) is located in Science & Technology room 263. They are equipped with a double distiller capable of producing analytical (18 megaohm) grade water. There are four class A fume hoods and an ADA compliant fume hood. Contact Dr. Richard Kelly.
Instruments: In addition, there are several analytical, four decimal place balances, bench top centrifuges, micropipetors, vacuum pumps, large hot plates, class A burets a drying oven and water baths. Sixteen lap top computers and several portable UV-Vis photometers are also available for use by students and faculty.
---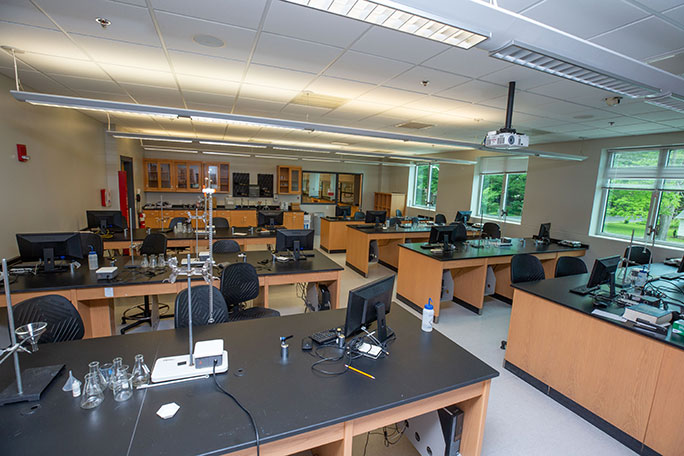 General Chemistry Labs - The general chemistry laboratories at ESU are located in Science and Technology Center rooms 139 & 143. They are designed to accommodate a maximum of 21 students. Each lab has 7 benchtops that can support three students. Contact Dr. Steven Boyer or Alicia Cole.
Instrumentation Used: Each bench is equipped with two monitors for molecular modeling and data collection. Eight top loading balances and appropriate glassware. Computer driven data collection apparatus is available for conductivity, atomic absorption spectra, visible-near IR spectra, current, voltage, pH, and atmospheric pressure. A computer and projector are available for instructor presentations.
---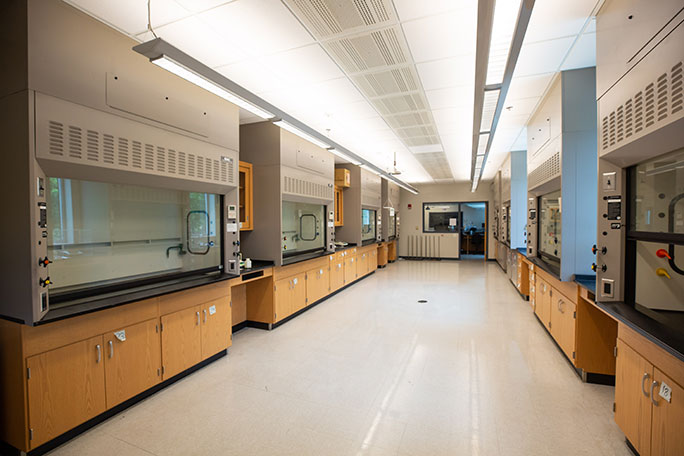 The chemical fume hoods used for the general chemistry laboratories are located in Science & Technology Center room 140.
The hood room is a highly ventilated, air-controlled facility with 8 class A hoods to contain and remove gases and fumes generated during experiments via an elaborate exhaust system.
This supports and is flanked by two general chemistry laboratories. Contact Dr. Steven Boyer.
---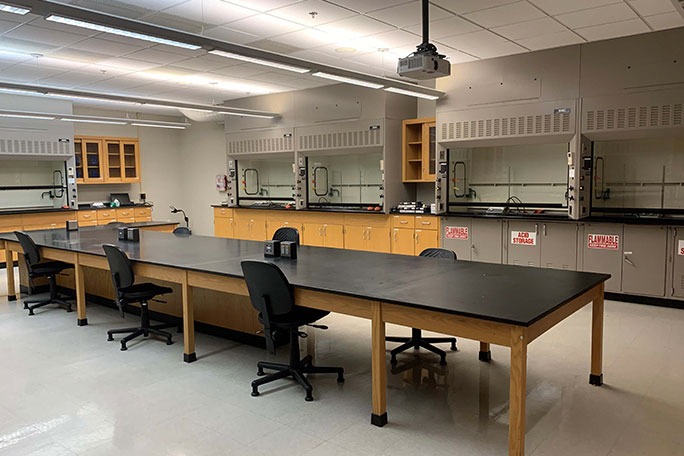 The two identically outfitted Organic laboratories are located in Science & Technology rooms 260 & 261.
Organic chemistry is a branch of chemistry that studies the structure, properties and reactions of organic compounds, which contain carbon in covalent bonding. Study of structure determines their chemical composition and formula.
The laboratory rooms are equipped with 8 student hoods, 1 chemical dispensing hood and a special access hood as well as a convection oven, several balances and various analytical equipment. Students will hone their analytical and separation skills using various organic molecules. In addition students will also have an opportunity to conduct various synthetic reactions with subsequent analyses of the products. Science and Technology room 261 also houses a high resolution, high sensitivity Shimadzu IRTracer-100 instrument outfitted with a MIRacle 10 ATR accessory.
Contact Dr. William Loffredo
---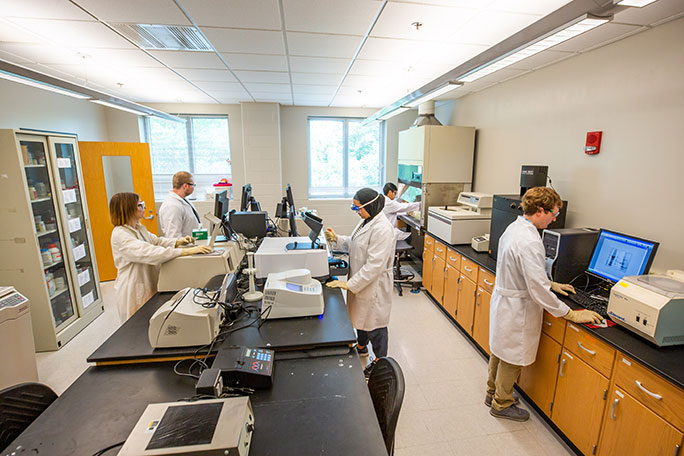 Biochemistry Instrumentation: two Perkin Elmer UV-Visible spectrophotometer, two Beckman-Coulter DU640 UV/VIS spectrophotometer and an Agilent Cary Eclipse Fluorescence spectrophotometer equipped with a plate reader and micro probe. A shaker-incubator, Kodak gel imaging system, gel electrophoresis equipment, two gene mini-cyclers, transilluminators, a sonicator and several purification columns are available in this lab. In addition, there is a Beckman Microfuge 22K, Beckman OptimaMax ultracentrifuge, a Beckman Advanti SE centrifuge, a Labconco Lyophilizer and an Aktapurifier UPC 100 FPLC. Also featured are a 4oC refrigerator, a -20oC freezer, water baths and other standard equipment.
For access see either Dr. Michelle Jones-Wilson or Dr. René Fuanta.
---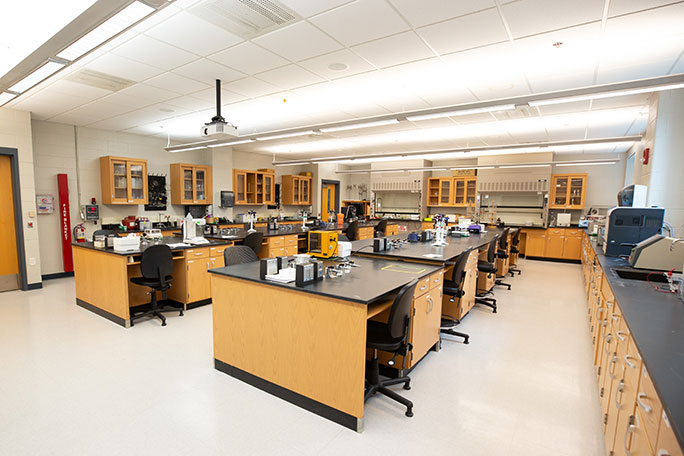 The Biochemistry laboratory is a spacious and highly ventilated workspace in Science & Technology rooms 361-362. Some fixed features include a walk-in cold room, two class A fume hoods, and a biosafety level 2 cabinet.
For access see either Dr. Michelle Jones-Wilson or Dr. René Fuanta.
---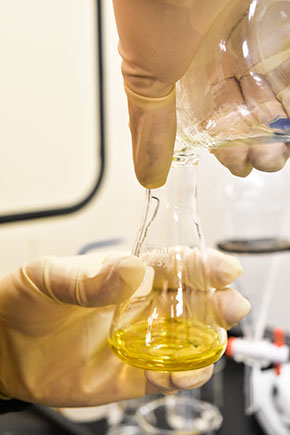 Advanced synthesis and reaction mechanisms is located on the third floor in Science & Technology room 359. It has the same configuration as the Organic labs and some of the permanent features include six Class A fume hoods, a rotatory evaporator, a perchloric acid fume hood and a walk-in fume hood. One glove box portable hood with gas line adaptability is housed in this laboratory. A wide variety of specialty glassware and benchtop UV spectrophotometers are also available. For access, see Dr. Steven Boyer.
Physical Chemistry Lab – Physical chemistry is the study of macroscopic, and particulate phenomena in chemical systems in terms of the principles, practices, and concepts of physics such as motion, energy, force, time, thermodynamics, quantum chemistry, statistical mechanics, analytical dynamics and chemical equilibrium. Instruments: the steady and transient state analyses lab in Science & Technology 357 houses an adiabatic expansion tank, water baths, oxygen bomb, and three class A fume hoods, and a thermo adaptable UV/Vis spectrophotometer.
Chemical supply and reagent prep - this facility is located in the ground floor of Science & Technology Center. It features a highly secured and restricted chemical storage space, ventilated hoods, and distilled water system. The prep room has a student work area reserved for lab assistants. For access contact Alicia Cole.
---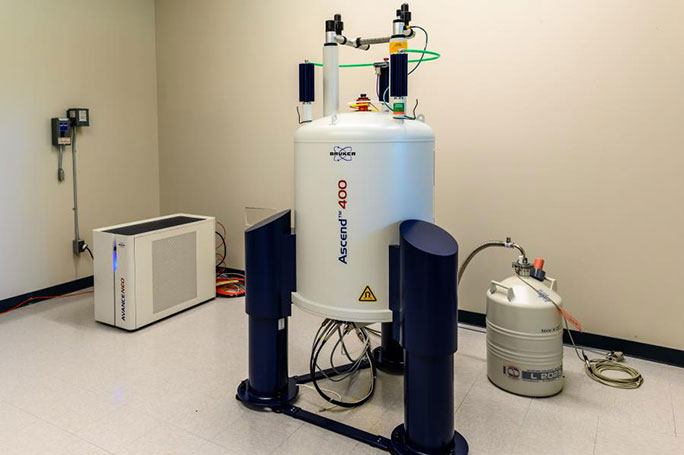 Bruker Nuclear Magnetic Resonance
It exploits the change in energy levels after exposure to a strong magnetic field, forms the basis of some powerful analytical research tools. Magnetic resonance spectroscopy (MRS) encompasses a variety of related techniques, such as nuclear magnetic resonance (NMR) and electron paramagnetic resonance (EPR) that have a diverse array of research, clinical and industry applications. The non-invasive, non-destructive nature of the technology allows the study of living cells and tissues as well as detailed analysis of solutions and body fluids. A combination of magnetic resonance analyses can provide both functional information and anatomical information, allowing relationships between the two to be determined.
The Nuclear Magnetic Resonance Spectrometer (NMR) consists of a 9.4 Tesla ultrashielded magnet with a 5 mm bore equipped with a broadband tunable probe. The instrument is a state of the art Bruker 400 MHz Avance Neo spectrometer. The instrument is essential for structural elucidation of molecules, monitoring reactions and quantification of reaction products.
Contact Us
Contact Information
Campus Address

Science & Technology 223

Phone:

Fax:

(570) 422-3908 (Fax)
Title of Department Leader

Department Chair

Name

T. Michelle Jones-Wilson

E:

Phone: