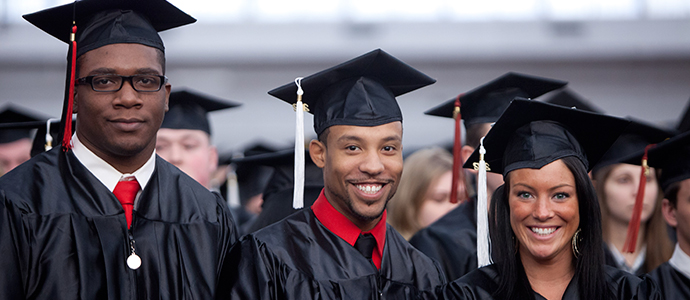 Why DEGREE COMPLETION at ESU is the Right Choice for You!
Apply Now! East Stroudsburg University's Degree Completion programs provide you with a fast-track to earning your degree in some of the nation's fastest growing fields, offering eight and nine week courses year-round at times that accommodate the demands of a busy work and family schedule. ESU offers Degree Completion programs at the main campus and the Lehigh Valley Center in Bethlehem. With our unique cohort system of learning, you become a member of a small, focused group of learners who will journey through the program together as a team, with our amazing faculty, on-site staff, and each other to provide you with a system of support every step of the way.
Many continuing and returning adult students can take only part-time coursework. Our programs are structured in accelerated sessions, allowing you to be a full-time student while still taking only two courses at once. You will move through the program at a measured, manageable pace and still be able to complete your degree in two years or less.
Although some of our courses are offered online, we believe in the value of face-to-face education for adult learners in a supportive peer environment. Classes are offered on weekday evenings and during the day on Saturdays to allow for maximum flexibility. Class schedules remain consistent through the program, allowing you to plan ahead so you can complete your degree on time!
And as a member of Pennsylvania's State System of Higher Education, ESU's tuition is among the most competitive in the area.
Exploring ESU's Lehigh Valley Center: A Schedule That Works for You
Exploring ESU's Lehigh Valley Center: Discover ESU's Lehigh Valley Center
Exploring ESU's Lehigh Valley Center: A new model
Lehigh Valley Location in Bethlehem
ESU's Lehigh Valley Center is located at 60 West Broad Street in beautiful, downtown Bethlehem, PA in the Lehigh Valley. In Bethlehem, ESU currently offers Degree Completion programs in Business Management, Dual Degree in Computer Science\Security and Public Health.
ESU now offers two additional Degree Completion programs in Business Management and Nursing on Northampton Community College's Bethlehem Campus - offering NCC and other community colleges' graduates the opportunity to seamlessly complete their Bachelors Degree with ESU!
To schedule a time to meet with an admissions representative, contact Millie Román-Buday at mroman@esu.edu or (610) 419-2516.
Click on the link below to learn about our current offerings in the Lehigh Valley:
Accelerated Degree Completion in Psychology at Main Campus
East Stroudsburg University offers an accelerated undergraduate degree completion program in Psychology / Applied Psychology on its main campus. This is an exciting 18-month program that offers courses to students on Tuesday and Thursday evenings throughout the Fall and Spring semesters, with breaks during the Summer months.
Extended Studies Accelerated Degree Completion Programs Brochure
Accelerated Degree Completion in Communication - Media Studies Concentration at Main Campus
The Communication Studies Degree Completion program with a concentration in Media Studies is designed to provide a flexible path primarily for working adults to earn a Bachelor's Degree during the evening hours. The program, which takes two years or less to complete, offers courses starting at 4:00 PM. This degree provides students with a classic liberal arts education that enhances their critical thinking skills through the study of effects of media on the way we think, feel and believe. Students will have the opportunity to examine traditional media (television, radio, newspapers and magazines) as well as newer media (social media, internet, web pages).
If you are interested in learning more about the accelerated Communication Studies program, click on the links below to see an example of course sequencing for the program:
Extended Studies Accelerated Degree Completion Programs Brochure
A Path Forward that Reflects Growing Job Markets
We understand that you want a degree that works for you - one that opens doors and paves the way to future success! Based on extensive internal and independent market research, our Degree Completion programs are focused on providing degrees that will prepare you for positions in rapidly expanding fields.
Convenient Course Schedules and Locations for Busy Adults
Courses are scheduled throughout the year (with short two-week breaks between sessions) to help students with prior credits complete their degree within two years.
Students will complete two courses (6 credits) per session. 8-week sessions typically meet two nights a week between 6:00 PM - 9:00 PM and\or on Saturdays between 8:00 AM - 5:00 PM. 9-week sessions meet two nights per week from 5:00 PM - 10:00 PM.
Take the First Step...
Call or email today for more information.
Millie Román-Buday
Assistant Director of Admissions
(610) 419-2516
mroman@esu.edu
Ready to Apply?
If you have any problems or questions, email mroman@esu.edu or call (610) 419-2516.