East Stroudsburg University is proud to be a part of the community by hosting events for students, faculty, staff, and community to attending different community events and organizations.
Besides being part of the Monroe County Veterans Association which hosts the Monroe County Veterans Day Parade, we have also assisted different organization.
Veterans Day Celebrations are held every year around Veterans Day.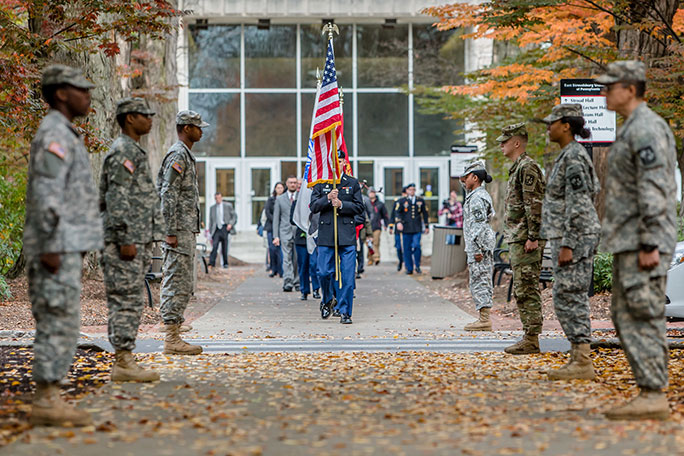 East Stroudsburg University hosts a Veterans Day Celebration every year around Veterans Day (November 11th). The event is open to faculty, staff, students and the community. The Celebration starts with a ceremony which consist of a dynamic Veteran speaker. After the opening ceremony, the audience is led to the Julia Statue where a wreath laying ceremony which consists of a three-volley salute and Amazing Grace played by various members of Celtic United Pipe and Drums. After the wreath laying ceremony everyone is invited back to Zimbar Hall for light refreshments. This provides one and all with a chance to speak directly to the keynote speaker and to socialize.
East Stroudsburg Veterans Memorial
ESU students helped with the landscaping at the Veterans Memorial Park in East Stroudsburg. The park was rededicated on November 11, 2020.
Monroe County Veterans Day Parade
The Monroe County Veterans Day Parade which goes from Stroudsburg High School to Dansbury Park in East Stroudsburg is hosted every year. ROTC cadets assist Northeast Search and Rescue with staging and line up and then participates in the parade. The ESU Band marches in the parade as well as various other clubs. Military affiliated students; Hotel, Restaurant & Tourism Management students and Upward Bound students help at the closing ceremony picnic by serving food to over 500 guests.
9/11 Moving Flag Tribute
Every year on September 11th ESU holds a moving flag tribute to remember and honor the 2,996 people who were killed in the terrorist attacks at the World Trade Centers in NYC, the Pentagon building in Virginia, and the Flight 93. Faculty, staff, students and athletes take turns throughout the day move the flag around campus starting at 7:00 a.m. and ending at 7:00 p.m. Some people do it as individuals and some as groups. As people drive by and see the moving flag tribute you get a lot of horns beeping and thumbs ups. If you would like to participate, stop by the tent located near Zimbar Hall on September 11th or contact veterans@esu.edu.
Contact Us
Contact Information
Campus Address

Zimbar-Liljenstein Hall

Phone:

Fax:

(570) 422-2849 (Fax)
Title of Department Leader

Associate Registrar, Veterans Services & Records

Name

June Pepe

E: