The ESU Nursing program is dedicated to the success of its students as academics and as future nursing professionals.
Our Nursing program has a 14:1 student faculty ratio that allows for enriched learning and guided clinical practice to assure safe, efficient, and effective nursing care to patients, families, and the community. All our Nursing faculty are doctoral prepared, have nursing practice expertise in a variety of specialty areas, and love teaching the nursing discipline.
East Stroudsburg University's Department of Nursing and one of our clinical partners, Pocono Medical Center, have developed the Dedicated Educational Unit (DEU).
The DEU is a clinical setting that is developed into an optimal teaching/learning environment through the collaborative efforts of nurses, health care team members, management and faculty.
It is designed to provide students with a positive clinical learning environment that maximizes the achievement of student learning outcomes by capitalizing on the expertise of both nurses and faculty. Students are integrated into the workplace in a way that allows them to be an integral part of the work flow and culture so they experience a realistic picture of nursing practice.
All About Nursing at ESU
All About Nursing at ESU
What do students learn to do?
Students will learn the discipline of Nursing and all its related skills to care for patients throughout the continuum of life. From the first breath of life to the last, the nurse is there to care for patients and their needs.
The skills our Nursing students learn include:
Head-to-toe assessment of body systems
Activities of daily living such as bathing, oral care, hygiene, ambulation, and nutrition
Medication administration including oral, sq, IM, and IV
Oxygen and airway management including patency, suctioning, ventilators, oxygen delivery devices
Positioning and range of motion
Critical and emergency care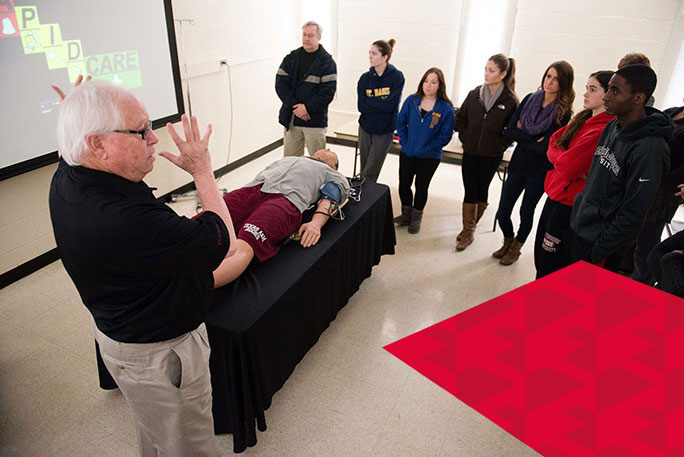 ---
---
Career Opportunities
Typically, ESU Nursing students are employed by the spring semester of the senior year. Our graduates are employed throughout the United States and hold leadership positions as nurse managers, vice-presidents of healthcare systems, and nurse educators in various health care systems, including Lehigh Valley Health Network, St. Luke's Hospital, Geisinger Health System, and Commonwealth Health.
---
Internships and Research Opportunities
Within the curriculum, nursing students take NURS 310 Introduction to Evidence-Based Practice and NURS 420 Synthesis of Nursing Practice research courses. These two courses require the student to develop research skills and to collaborate with our clinical agency staff to develop areas of inquiry that advance the nursing profession and patient care.
---
Learn more about ESU and the Nursing major.
Professional Licensure Disclosures and Distance Learning State Authorization: Applicants who are applying to programs that may lead to licensure in states other than Pennsylvania must be aware of the various state professional licensure requirements. Please see ESU's professional licensure disclosures, Evaluation of Conduct Record, and check licensure requirements by occupation and state at CareerOneStop.
Contact Us
Contact Information
Campus Address

DeNike Center for Human Services 213

Phone:

Fax:

(570) 422-3853 (Fax)
Title of Department Leader

Department Chair

Name

Kelly Varcoe

E:

Phone:
here