Group Visit Information
Schools, day care centers, and homeschoolers as well as special interest clubs, scout troops, and senior groups are all invited to enhance their activities with a specialized program at Schisler museum and McMunn Planetarium.
Inquiries from tour operators offering educational experiences in the Pocono Mountains region are also welcome.
We want to do everything possible to ensure that your visit is a successful one. Please contact us for any questions about programming, accessibility, or other issues.
Rates
The museum and planetarium are both included in admission. There are no further discounts.
Group discount applies to groups of eight or more guests with advance reservations only.
The group rate is $5 per person, with one adult per eight children admitted free; see Chaperones below.
Group rates are only available with advance notice. Drop-ins do not receive group pricing.

Unguided visit: Groups not requesting a guided tour may call ahead on public days to check availability. Unguided visits on non-public days require two weeks' notice.
Guided tour: Groups requesting a guided tour must make a reservation at least two weeks in advance.

Special needs aides and nurses accompanying groups are admitted at no charge.
Cash, checks, Visa, and MasterCard are accepted.
Chaperones
One adult chaperone is required per eight children. These chaperones are free. All other adults participating in a program are charged the group rate.
Chaperones must remain with their group throughout entire visit.
Chaperones are expected to maintain discipline. The tour will be terminated if a group becomes unmanageable.
For drop-off programs, only adults who remain in the facility will be charged.
Programs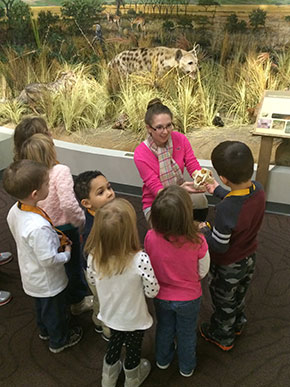 Whether you are a school or community group, we are pleased to offer in-depth tours and programs covering topics in astronomy, ecology, and more. Developed in collaboration with the educators at East Stroudsburg University, our programs are rooted in current scientific knowledge and are aligned with state and national teaching standards.
Full program descriptions and educator guides are available upon request.
Admission includes both the museum and planetarium, but groups may choose one or the other based on their needs.
Standard visits include a 45-minute tour of the museum, 15-minute restroom break, and one or two films in the planetarium, for a total of 1.5­ to 2 hours.
An astronomy faculty lesson or museum scavenger hunt requires an additional half hour. These add-ons are free.
We offer two museum topics: Animal Adaptations, which discusses how animals adapt to their environments; or Nature by Night, which discusses how nocturnal animals adapt to life in the dark. Both tours can be adapted to any age level, from Pre-K through adult.
Films that the university maintains in its collection are the only shows presented in the museum or planetarium.
Capacity
To ensure the best experience, groups are distributed according to head count and facility occupancy. Specific group needs may vary, but general guidelines are as follows.
Up to 75 visitors: group stays together for entire visit; groups with over 30 guests may be divided into two groups for museum tour
75-100 visitors: group is divided upon arrival so that half go to the planetarium and half to the museum; at the conclusion of each program, the groups rotate and the programs are repeated
100 visitors or more: group must be booked over multiple time slots or dates
The planetarium seats up to 75 when a film is selected. For groups providing a lecture or presentations without a film, the planetarium seats 150.
Free bus/van parking on campus is available. Individuals arriving in separate cars will receive parking permits.
Dining
Brown bag lunches are permitted in the summer. Brown bagging is permitted in the lobby only, not on campus lawns.
Group dining arrangements can be made at the campus dining hall.
Closings/Cancellations
Cancellations 48 hours or more before the program may receive a refund of any deposits, or the deposit may be forwarded to a rescheduled visit date.
Cancellations with less than 48 hours' notice carry no penalty if the visit is rescheduled. Otherwise, the group is considered a no-show and the deposit is non-refundable.
Penalties do not apply to weather closings or other emergencies. Refunds in these situations are provided upon request.
No refunds will be issued to guests removed for violation of university policies.
Contact Us
Contact Information
Campus Address

Hoeffner Science & Technology Center

Phone:
Title of Department Leader

Director

Name

Cathy Klingler

E: