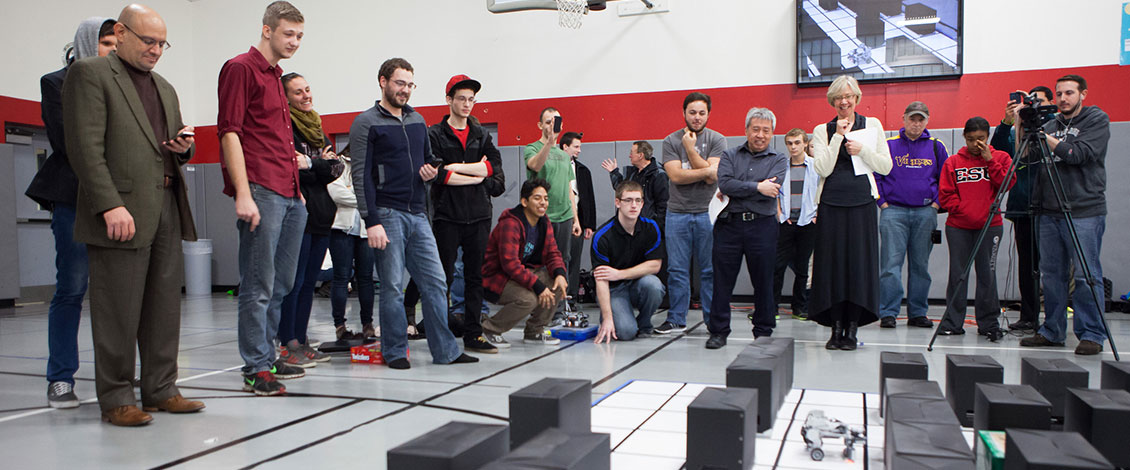 Computer Science
Our department offers two baccalaureate degree programs: a Bachelor of Science in Computer Science and a Bachelor of Science in Computer Security.
The degree programs closely follow the professional preparation recommendations of the Association for Computing Machinery(ACM), the Department of Homeland Security, and the National Security Agency (NSA).
The BS in Computer Science Program is accredited by the Computing Accreditation Commission of ABET.
The BS in Computer Security Program has led to ESU's designation as a National Center of Academic Excellence in Cyber Defense Education by the US Department of Homeland Security and the NSA. For more information on Cyber Security, please visit the department's Center for Center for Computer Security and Information Assurance.
We also offer a minor in Computer Applications which is ideal for non-majors who want a solid background in computer information systems.
One of the things that makes our program unique is the requirement that students successfully complete an internship. This provides students with real world experience working with a business or on a research project with faculty members. Currently, we have very heavy demand for our interns. In some cases, an internship leads to a permanent job for the student after graduation.
In recent years, the department has received more than $7 million in research grants from outside sources. This has provided a very rich laboratory environment, as well as research opportunities for select undergraduates.
Admission standards to our programs are high and, once in, the academic requirements are demanding. Extensive class work, laboratory and project involvement, motivation and commitment are required for successful development as Computer Science and Computer Security problem solvers. However, if you make it through the program, the lifelong professional opportunities and rewards are considerable.
Our department boasts an employment rate for graduates of nearly 100% in the field. Graduating students have recently been placed in a wide variety of organizations, including: Cisco Systems, Hershey Foods, IBM, Lockheed Martin, Merck, New York Life, National Security Agency (NSA), Pocono Medical Center, Proteus Technologies, Sanofi-Pasteur, Situational Awareness Systems, Space and Naval Warfare Systems (SPAWAR), US Army R&D Center at Picatinny Arsenal, NJ, Vanguard Investments, Verizon, and Vonage.
In addition, we have a number of alumni who have started their own successful businesses. Examples include Proteus Technologies (founded by Dr. Charles Taylor) and Royal Web Designs (founded by Mr. Mike Rosol). Still other students have recently gone into PhD programs at such schools as Drexel University, the University of Delaware, and the University of Georgia.
What does a Computer Career Offer?
Career Potential

Software engineer/developer
E-commerce engineer
IT engineer/manager
System analyst/manager
Game programmer/developer
Computer scientist/engineer

Career Settings

Computer Software & Technology Developers
Government: Depts of Defense and Homeland Security
Information Technology companies
Website, Web Development, and E-commerce companies
Embedded systems industry
Research/Technology centers (IBM, Google, Microsoft, etc.)
Consulting
Contact Us
Contact Information
Campus Address

Science & Technology Center 318

Phone:

Fax:

(570) 422-3490 (Fax)
Title of Department Leader

Department Chair Computer Science

Name

Christine Hofmeister

E:

Phone: