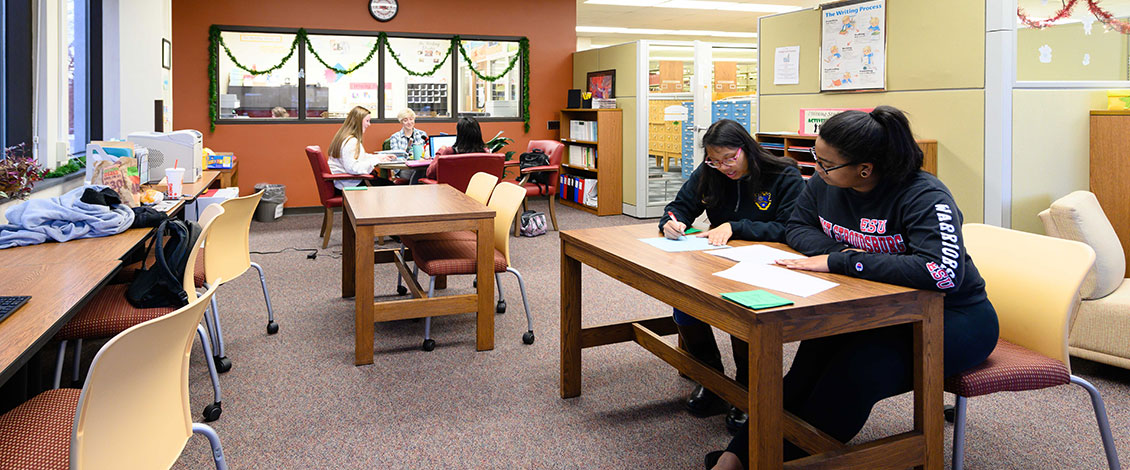 Writing Studio
Created in 2006, the Writing Studio has grown to become a hot-spot for writing on campus, offering over a thousand tutoring sessions a semester.
Located on the first floor of Kemp Library, the Writing Studio's mission is to help students draft, revise, and complete their writing assignments in a comfortable, cozy environment. Students will improve their writing through every stage of the writing process with guided practice, helpful tips and motivation, workshops, one-to-one tutoring sessions, handouts, and resources.
The Writing Studio will provide online tutoring for any writing project.
In the Writing Studio Lounge, students can work on group projects or meet to hold study sessions. Comfy couches and large table space make this the best place to go for quiet study time.
Students can seek help with brainstorming, understanding paper assignments, reviewing comments on graded work returned from faculty, or polishing any aspect of a paper from developing a focus to punctuation to citations. Students can select an appointment by visiting our tutoring platform. In addition to Writing Studio services, students can also sign up for content and math tutoring at the same site. For additional information about tutoring, please also visit the Warriors Tutoring Center.
We're here to support you six days a week! Don't forget that uploading a draft or a paper assignment ahead of time provides your tutor with more information about your questions or your project.
Don't forget to like us on Facebook and Instagram! You'll find us on Facebook at Writing Studio at ESU, and @esuwritingstudio on Instagram. We'll post updates, special events, and photos.
Frequently Asked Questions
At the Writing Studio, we believe in teaching you a valuable writing skill that you can apply to future papers. If you just "drop it off," we can't help you get better at writing papers. You must work with a tutor in order for us to help you with your writing concerns.

A typical session lasts anywhere from 30-40 minutes. Please allow enough time between your classes to get in a full session.

Yes, you do need to make an appointment to see a Writing Studio tutor. We usually have 3 to 4 tutors available at all times, so we can help you both in-person and virtually. During our busy weeks (Midterms and Finals), we usually see an increase in students, so you may have to make an appointment in advance.
Contact Us
Contact Information
Campus Address

Writing Studio, Kemp Library
Title of Department Leader

Director, Writing Studio

Name

Sandra Eckard

Phone: