Get involved in Performing Arts at ESU.
For students of all majors (with prior experience or no experience), join performing arts to create a home away from home!
Exciting Productions
Strong Social Connections
Leadership Development
Skill Building and Experience
Confidence Building
Fun, fun and more fun!
Make Theatre a part of your ESU Experience!
Whether you already love it or you have always wanted to get involved, now is your time. There are many ways and levels to get involved in ESU theatre.
ESU students develop strong social ties, and a home base within the larger university, through intensive production work and two student theatre clubs: Stage II, Musical Theatre Organization (MTO), and a theatre honors society: Alpha Psi Omega.
Stage II
---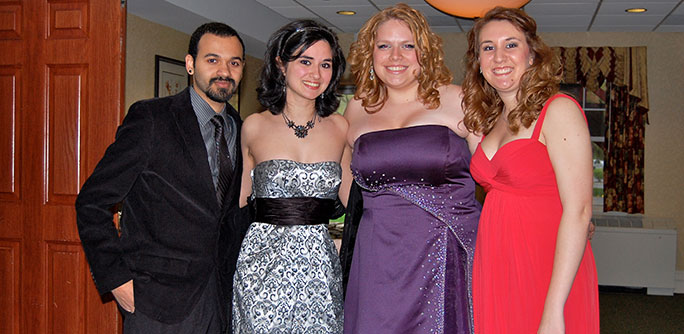 Stage II is an entirely student run organization at East Stroudsburg University, designed to expand the education and experience of all students interested in theatre. Throughout the academic year, Stage II members work continuously to present their peers and our community with the art of theatre. Members take advantage of countless opportunities to involve themselves with the entire theatre process. We welcome you to join our organization, and look forward to the magic you will bring into the theatre. Stage II meets Thursdays at 2pm in the Smith McFarland Theatre, Fine and Performing Arts Building. Stage II notices, auditions and events are posted on the bulletin board in the Fine Arts lobby.
Musical Theatre Organization
---
M.T.O. (the Musical Theatre Organization) is an active group of students who promote musical theatre by performing at many official university functions, and at major community events like the Stroudsmoor Christmas Tree lighting. Each year they host several workshops and master classes by Broadway professionals in both song and dance, as well as organize trips to New York City to see musicals. They meet weekly for meetings and rehearsals, and each spring they produce their own Musical Theatre Cabaret. MTO post notices, auditions and events on the bulletin board in the Fine Arts lobby.
Alpha Psi Omega
---
Alpha Psi Omega acknowledges to those demonstrating a high standard of accomplishment in theatre and provides a wider fellowship with students and faculty interested in theatre in other universities and colleges. As students qualify they may be rewarded by election to membership in this society.
Contact Us
Contact Information
Campus Address

Fine & Performing Art Center

Phone:

Fax:

(570) 422-3008 (Fax)
Title of Department Leader

Department Chair

Name

Christopher Domanski

E:

Phone: