Morningstar Living and ESU Partnership Opportunity for Community Service: LIFE -- Learning Is ForEver
Morningstar Living in Nazareth, PA has partnered with ESU to offer a new lifelong learning initiative called: LIFE -- Learning Is ForEver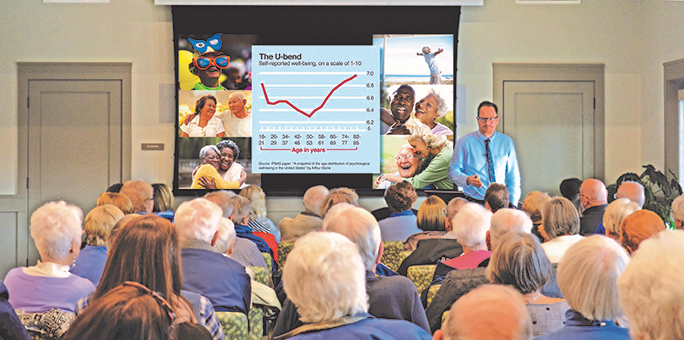 Faculty at ESU may offer a range of teaching/learning and community service activities with ESU's partner with Morningstar Living in Nazareth, Pa. This partnership affords rich service connections but also expands ESU's presence into the neighboring Lehigh Valley – home of ESU's location for extended learning. The relationship with Morningstar Living enables departments, student groups and individuals to share more about ESU with lifelong learners.
Faculty, retired faculty, staff, and students may submit proposals for programs that they are interested in delivering to this unique group. Learning opportunities may be in the form of a short seminar, a series of lectures, or one-off event to lifelong learners in the Nazareth, Pennsylvania area. Team teaching and interdisciplinary topics are encouraged.
This partnership is designed to provide fun cultural experiences, as well as non-credit training and education. Learning opportunities are delivered at Morningstar Living's Heritage Village Campus in their beautiful Cooper Center. Other venues may be considered if they make sense in the frame of a proposal, i.e. at the symphony, planetarium, etc.
This opportunity not only allows ESU faculty to provide service to ESU and the broader community in the Lehigh Valley, but also opens opportunities for clinical practice, field work, research, student recruitment, and beyond. This is a purely voluntary experience that is recognized by the Provost and Morningstar Living.
LIFE will be open to adults living in the Lehigh Valley area.
What is offered?
Topics from all departments and all areas are encouraged. Proposers should bear in mind the audience, and tailor topics that may be of interest to lifelong learners. Topic areas that rate high in community surveys are: music/ jazz, computer applications, digital arts, health, botany, birding, theatre, nature, history, art history, 3D printing, painting, sculpture and photography. Presentations from Provost Colloquiums past, present and future are also encouraged! Sessions are expected to be 1 to 1.5 hours each in length.
Please contact Steven Ives at sives@esu.edu if you have a proposal or idea you would like to share or for any questions pertaining to the day to day operations of this partnership.
Contact Us
Contact Information
Campus Address

Reibman Administration Building

Phone:

Fax:

(570) 422-3519 (Fax)
Title of Department Leader

Provost and Vice President Academic Affairs

Name

Margaret J. Ball

E: