The Center for Multicultural Affairs and Inclusive Education, Gender and Sexuality Center, and the Division of Campus Life and Inclusive Excellence are hosting our inaugural Do it for The Culture Diversity Conference on April 14 and 15, 2021.
The Do it for the Culture Diversity Conference is an educational experience rooted in the enrichment of our students' understanding of diversity and their roles in championing the values of inclusivity and social justice.
With this year's theme being "Breaking the Ice and Broadening Our Narratives in the Fight for Antiracism", our keynote speakers are Melissa DePino and Michelle Saahene of Privilege to Progress. They will be speaking to our campus community on the topics of Black Lives Matter and creating awareness to inspire action towards racial justice.
With our breakout sessions, we will be drawing attention to narratives that are not always included in our fight for human rights and antiracism.
Stay tuned for more information on breakout sessions and speakers! For information, feel free to contact lfleming@esu.edu.
Keynote Presentation Highlight -- Michelle Saahene and Melissa DePino of From Privilege to Progress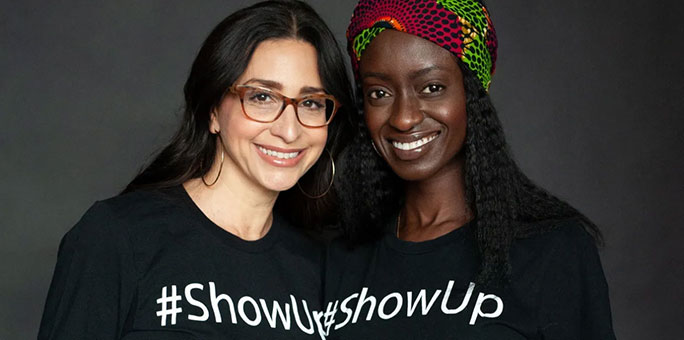 Michelle Saahene and Melissa DePino started From Privilege to Progress (P2P)—a national movement to desegregate the public conversation about race and racism—after their viral video of Donte Robinson and Rashon Nelson's unjust arrest at a Philly Starbucks captured international attention. The conversation they started that day in the Philadelphia Starbucks as speakers who create awareness and inspire action. Their work at P2P has been featured on Jada Pinkett Smith's Red Table Talk, NPR's Radio Times and Code Switch, Matter of Fact with Soledad O'Brien, MSNBC's AM Joy, and in numerous television, print and online outlets.
Through the #ShowUp movement, they continue the conversation started that day with a commitment to learning together as a community, speaking up in our everyday lives, and amplifying the voices of people of color. As speakers and conversation moderators, Michelle and Melissa connect with audiences on a personal level, allowing them to recognize the power they have as individuals to make a positive impact. Participants leave the conversation with the inspiration and tools to effect change in their everyday lives.

Together, Michelle and Melissa will be speaking to our campus community on April 14, 2021 at 5:30pm discussing their lived experiences related to the Philadelphia Starbucks incident, and its implications in understanding what racism looks like today. They will be discussing how to create a culture of authentic inclusion and diversity in the workplace, a healthy and profitable business, and a more equal and just society.
---
Register Today
Contact Us
Contact Information
Campus Address

96 Normal Street

Phone:

Fax:

(570) 422-3897 (Fax)
Title of Department Leader

Director, Center for Multicultural Affairs & Inclusive Education

Name

Lyesha Fleming

Phone: