Building community is at the core of the Gender and Sexuality Center's work.
Here are off-campus community resource centers and alumni groups to continue your activism after graduation.
Alumni Committees
The GSC oversees two alumni groups:
Feminist Alliance Alumni
PRIDE Alumni
If you are interested in joining either group, email Lyesha Fleming with the group you'd like to join. The alumni groups host events to bring ESU alumni back together to continue empowering each other to be our best selves.
PRIDE Community Days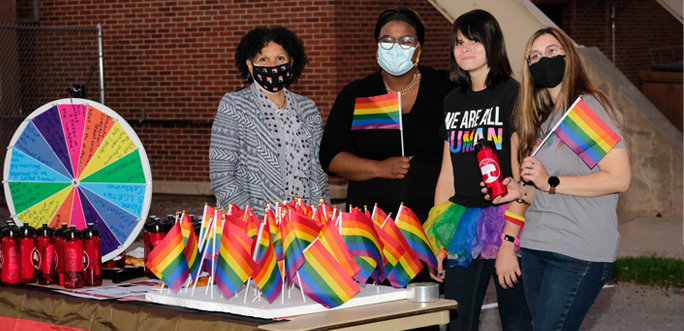 The Pocono Chamber of Commerce organized the first and socially distant Pocono PRIDE Community Day in September 2020! ESU's Gender and Sexuality Center participated to support the event and LGBTQ+ community. Pocono Pride will continue to grow and be a staple to ESU and the surrounding community.
Visit the Pocono Pride Festival website for the most up to date information.
Bradbury-Sullivan Community Center
The Bradbury-Sullivan Center is the community LGBTQ+ center for the Lehigh Valley located in Allentown, PA. They offer "world-class, life-enriching LGBT arts & culture programs."
Mazzoni Center
The Mazzoni Center is the largest LGBTQ+ center in Philadelphia. They provide comprehensive health and wellness services within an LGBTQ+ focused environment. They also host the Trans Wellness Conference every year.
Contact Us
Contact Information
Campus Address

University Center, Room G-7

Phone:
Title of Department Leader

Interim Director

Name

Lyesha Fleming

E:

Phone: